Crossroad of Oriental and Asian culinary traditions during the Silk Road, the ancient Constantinople has mixed these influences, reinvented them, in a cuisine that is sometimes surprising, often delicious.
From coffee to salep, kebab to kunefe, the trip to Istanbul is also tasty.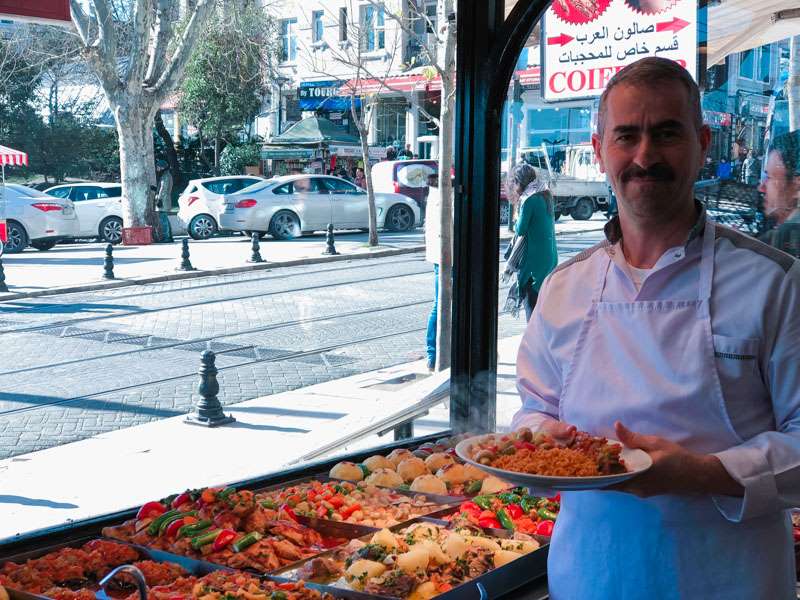 The Turkish cuisine is often made of hearty dishes, based on peppers, minced meat, tomatoes and potatoes. Mashed potatoes, skewers, spinach. And oil … ideal to recover after the morning and afternoon tours.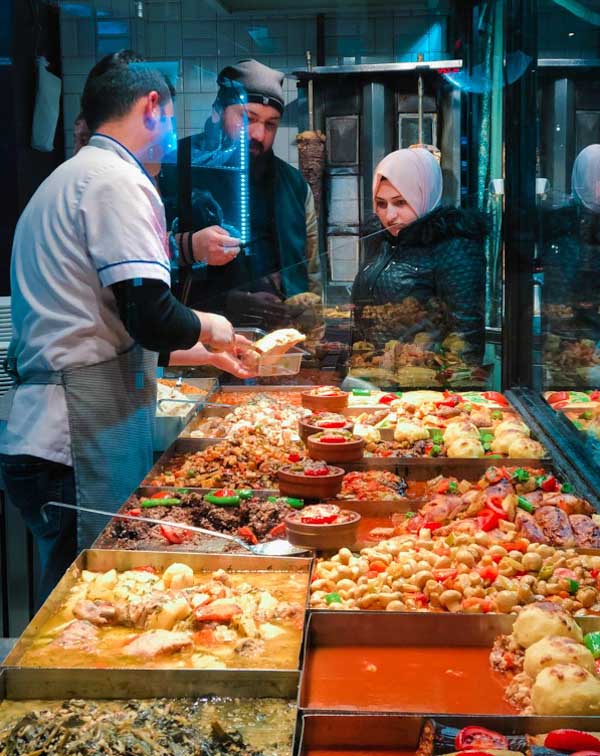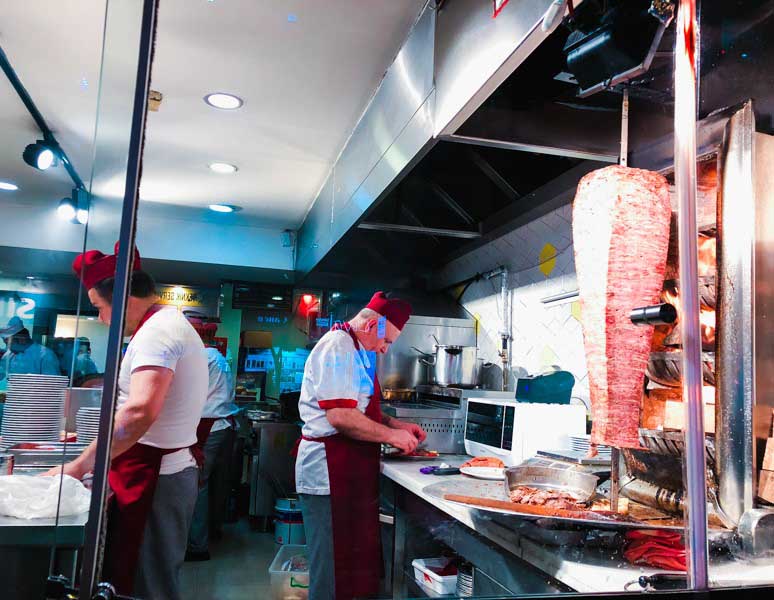 Who doesn't know the kebab.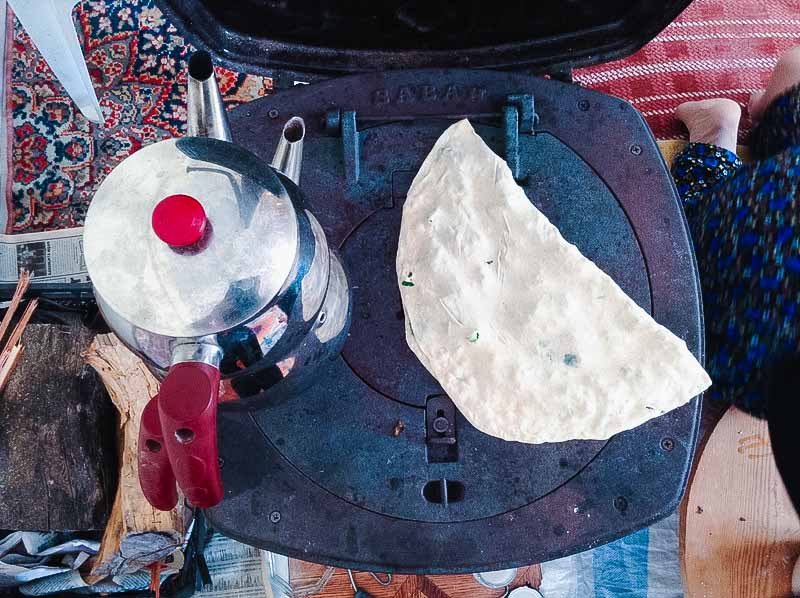 Kind of pancakes filled with vegetables, meat or cheese.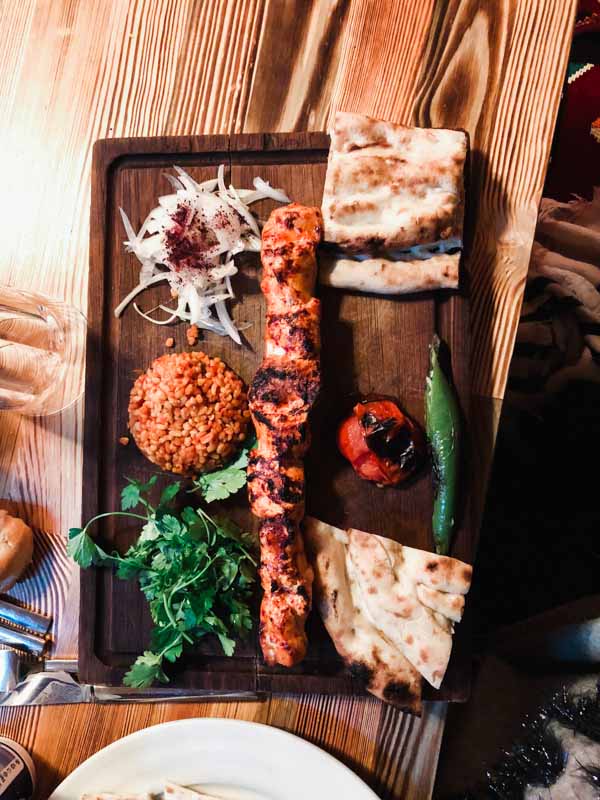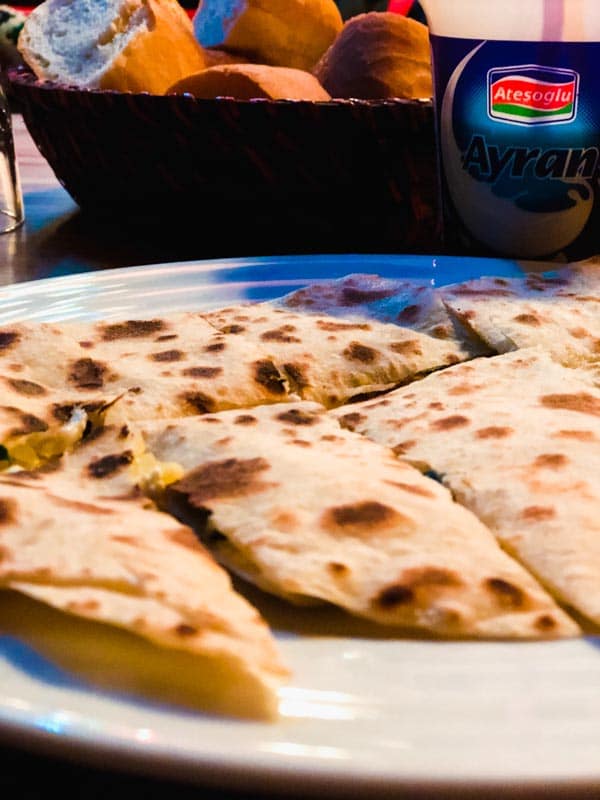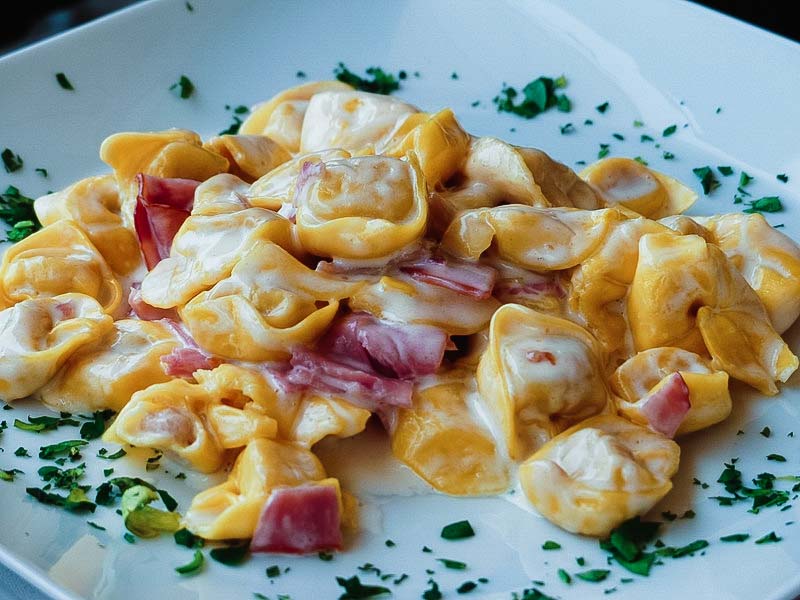 The Silk Road made the Turks discover the Chinese raviolis, a recipe that they gradually adapted until creating the Manti. Stuffed with ground meat, potatoes, lentils or cheese depending on the region, they are served with yogurt sauce (from Central Asia), tomato sauce, or melted butter. They are served as an entrance.
The köfte
Meatballs (beef or lamb) seasoned with spices and/or onions.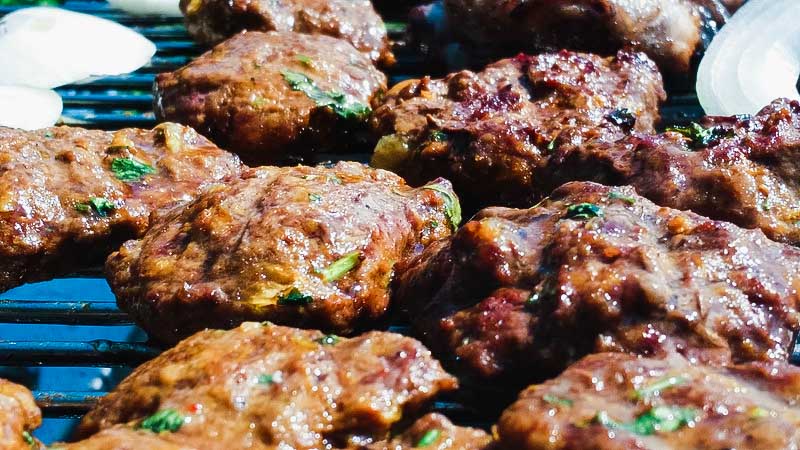 This dish, greatly appreciated by Turks, is generally very nice, apart in the restaurant Sultanhamet Koftecici (Sultanahmet district). However recommended by two guides, they serve a bland and greasy boiled meat, infamous. Far from its original recipe.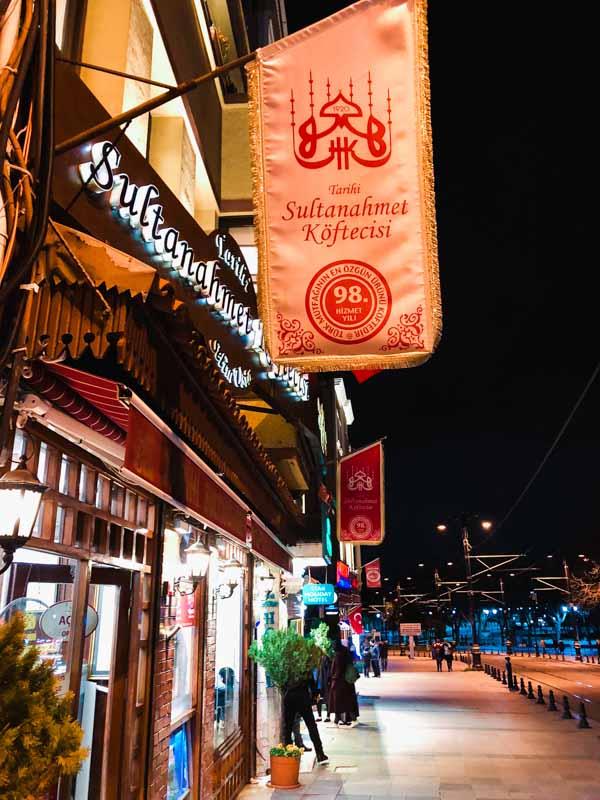 To eat on the go, you'll find boat-shaped pizza sellers, with a wide selection of toppings.
Very cheap but very fat lol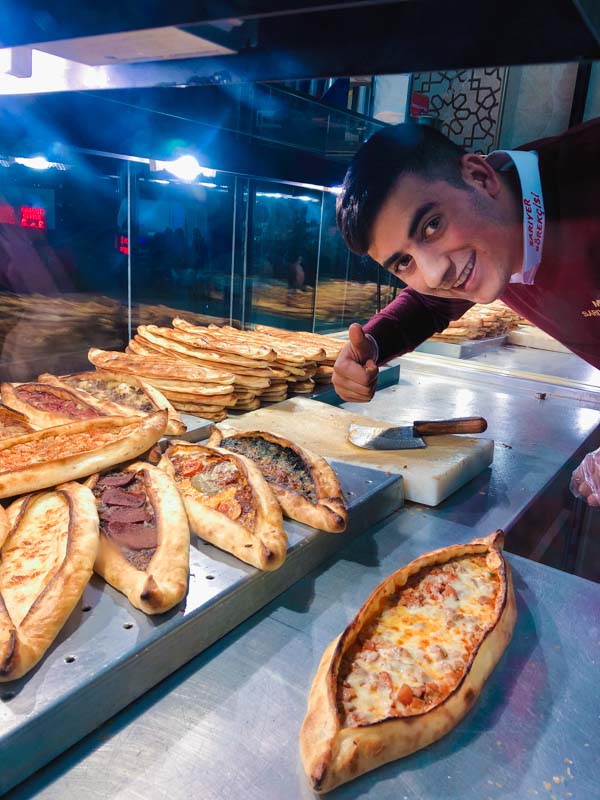 Turkish pastries :
baklavas, loukoum, kunefe, and … fox testicles !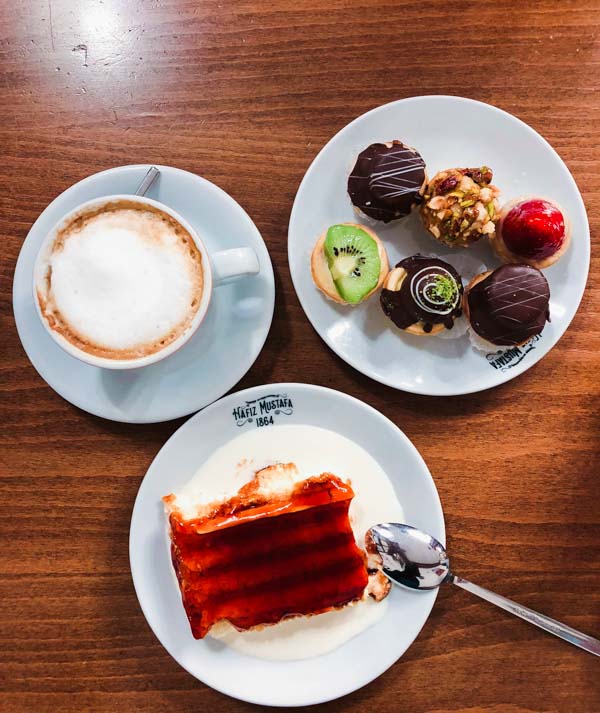 In a country so rich in honey, pistachios, nuts and almonds, if there is one thing the Turks master, that's pastry.
If baklava doesn't need introduction, there are more surprising pastries, which are often worth a visit.
My number one : The Trileçe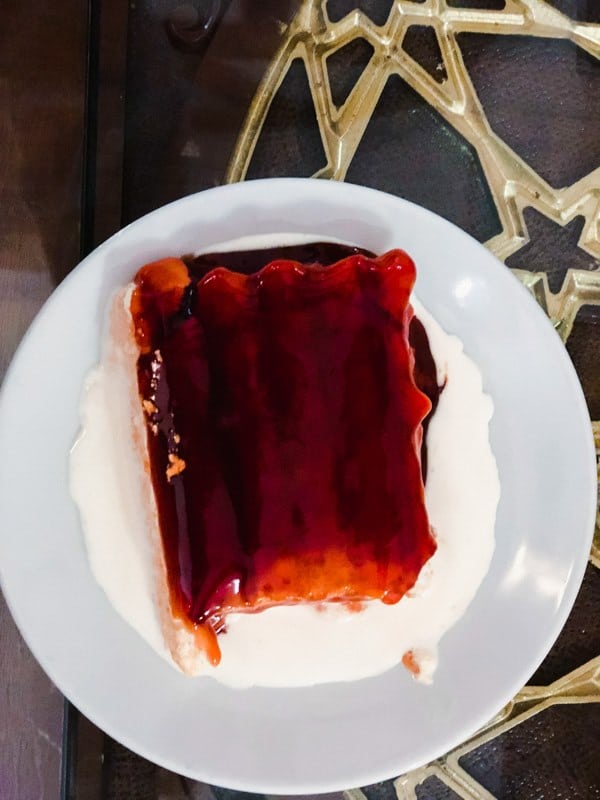 Native to South America and/or the Balkans, i's not clear, but who cares. Istanbul took it, probably improved it, the Turks are crazy about it. And so do I.
A cake that melts in a medium-thick cream made of 3 milks : sweet condensed milk, unsweetened milk and whole milk. Covered with a layer of caramel or raspberry. It'is very sweet, it melts in the mouth, it envelops the whole palate, it's a delight. F*** diet, that's too yummy !
I still don't understand why Paris didn't take it over. I dare not imagine the result if Pierre Hermé or Sadaharu Aoki decided to revisit the recipe !!
Where can you eat it? In any Hafiz Mustafa pastry shop, which you will find on your way, or at :
Baltepe Pastanes : Atikali Mah., Müstakimzade Sokak 33, Fatih
Tuğra (Çırağan Palace Hotel) : Çırağan Caddesi 32, Besiktas
Köfteci Arnavut : Murselpasa Caddesi 139, Balat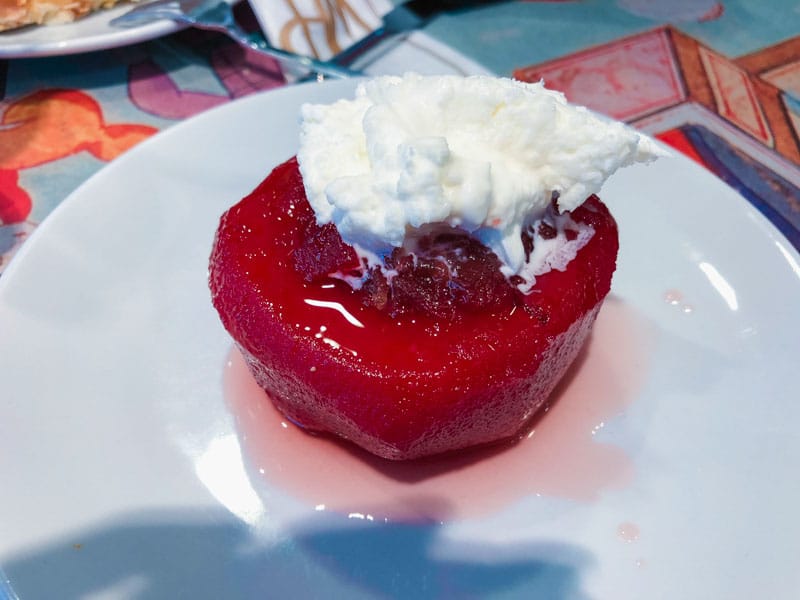 A recipe based on quince in syrup, very sweet ! served with cream (made with buffalo milk) if desired. Very good, but only once otherwise it can be a lil disgusting.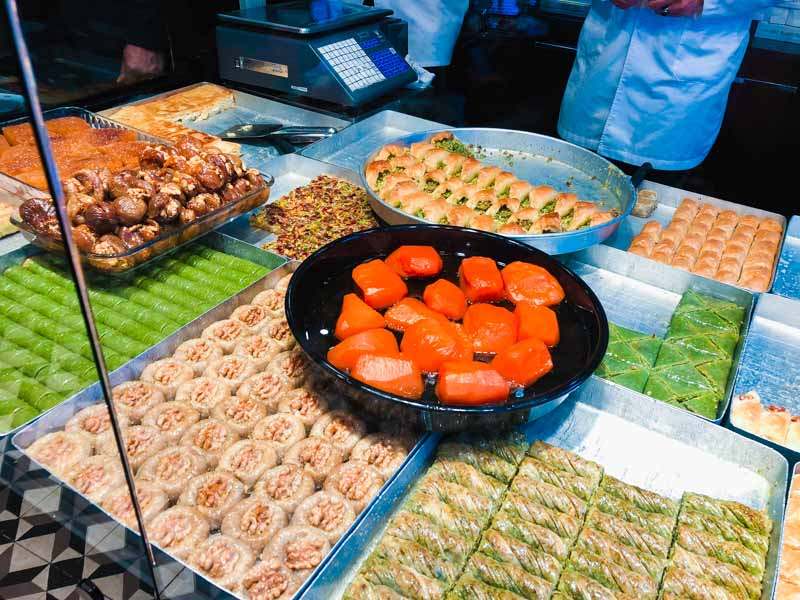 The Loukoum, the "rest of the throat"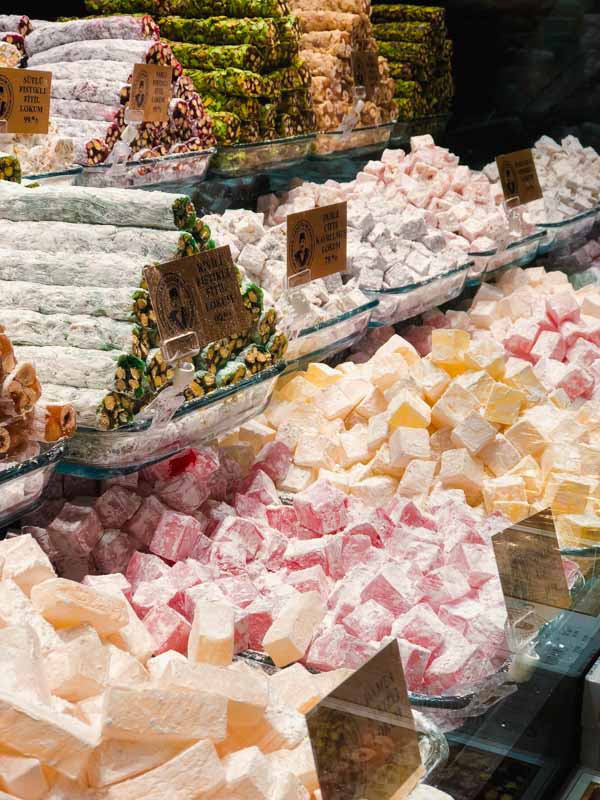 There's loukoum, and loukoum...
Between the rubbery pastry with fake sugar and industrial aromas, and the genuine loukoum as it was invented in the 18th century, the choice is quickly made. Derived from a drug used in Babylon to treat sore throats, the loukoum as it's known today – sugar or honey, enriched with dried fruits (almonds, pistachios) or flavoured with fruit – was made by Hacı Bekir, confiscator of the time of Sultan Abdul Hamid I. Official supplier to the sultan and his court since that time. Classy.
Small sweets of the rich ladies, it was also offered by lovers as a pledge of love.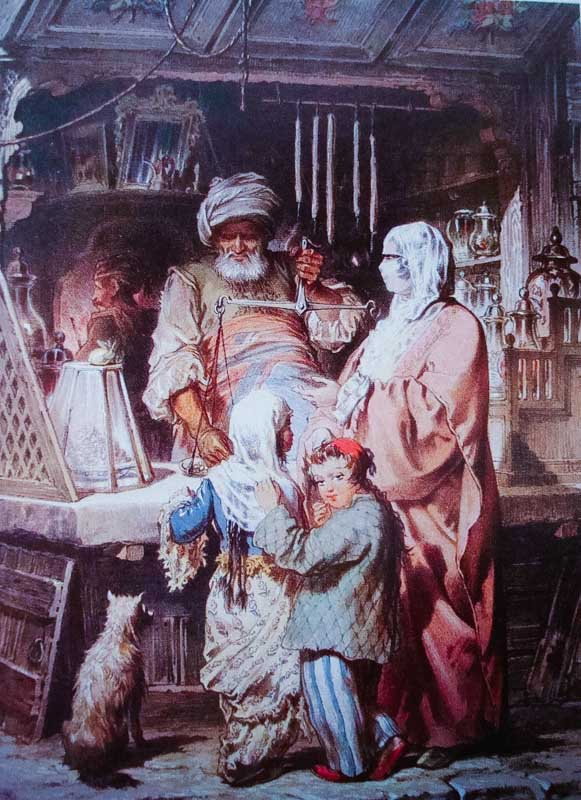 Haci Bekir had already won numerous prizes and medals at international fairs, when the Italian Amedeo immortalized him in his shop. The painting is on display at the Louvre.
If this confectionery can be found in all countries formerly associated with the Ottoman Empire, it's necessary to visit one of the four Istanbul shops of the descendants of Hacı Bekir to taste the genuine Turkish delight. An institution in the city, which exports worldwide, and offers 17 flavors : extra pistachio, hazelnut, nut, rose, mint, mastic, coffee, clove, cinnamon, ginger, chocolate, and only in winter that with kaymak (cream of buffalo milk).
Confectionery Haci Bekir : Hamidiye Cad. 83, Eminonu Or  Istiklal Cad. 83 A, Beyoglu

The Kunefe, like a « real » sweet cheese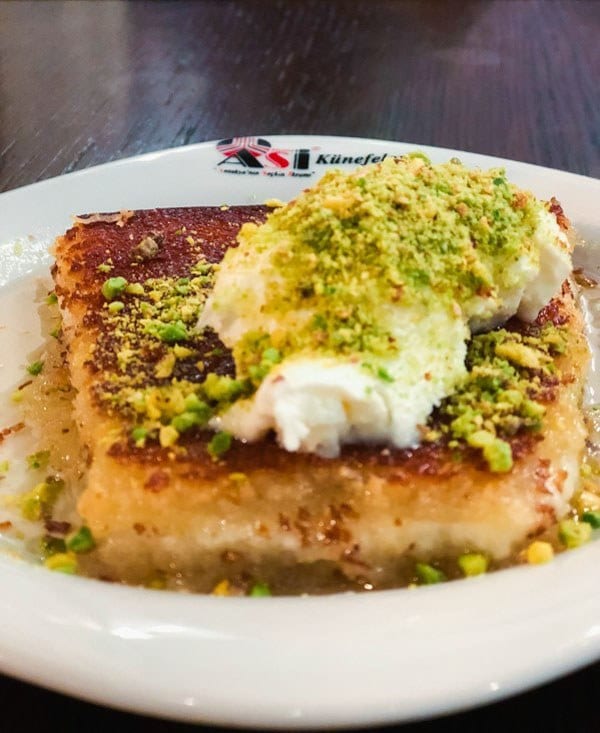 If you are not an adventurer of taste, go your way. The Künefe is a cake made from a Turkish cheese that can recall mozzarella, angel hair pasta, butter and sugar syrup.
Eat hot. You will very easily find it in the streets. To be tested at least once.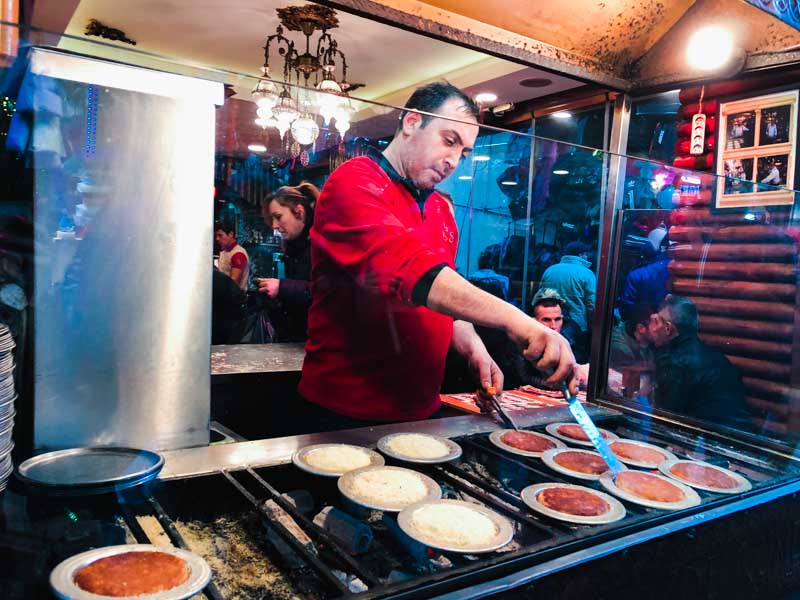 The kazandibi,  or tavuk göğsü : chicken for dessert !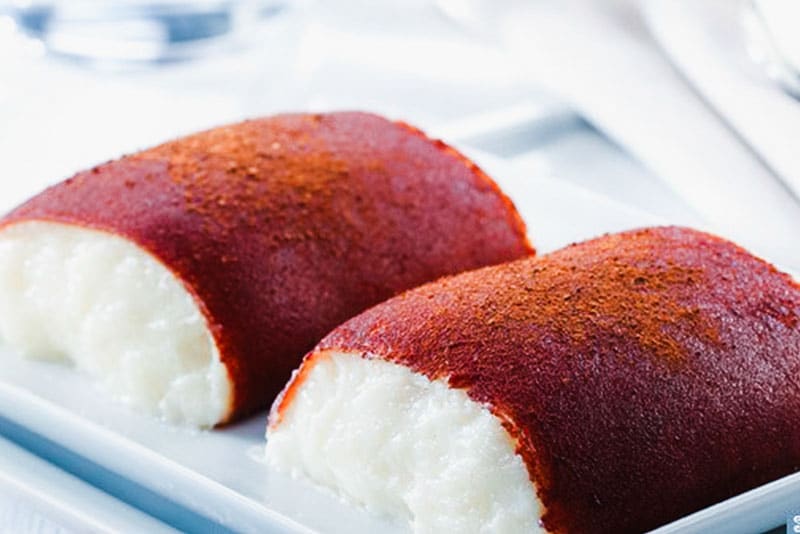 With all the delicious pastries you can find in Turkey, I wonder what's the point of eating  sweet chicken … I personally didn't push the curiosity any further, and yet it's one of the most popular in Turkey : chicken mixed with milk, sugar, rice and cinnamon. Chicken is certainly more of a special texture than a meat flavour…
Where to eat it ? At Hafiz Mustafa, for instance.or in any pastry shop.
The Simit
A sesame seed bun sold in the street on wagons. Good when it's fresh and hot.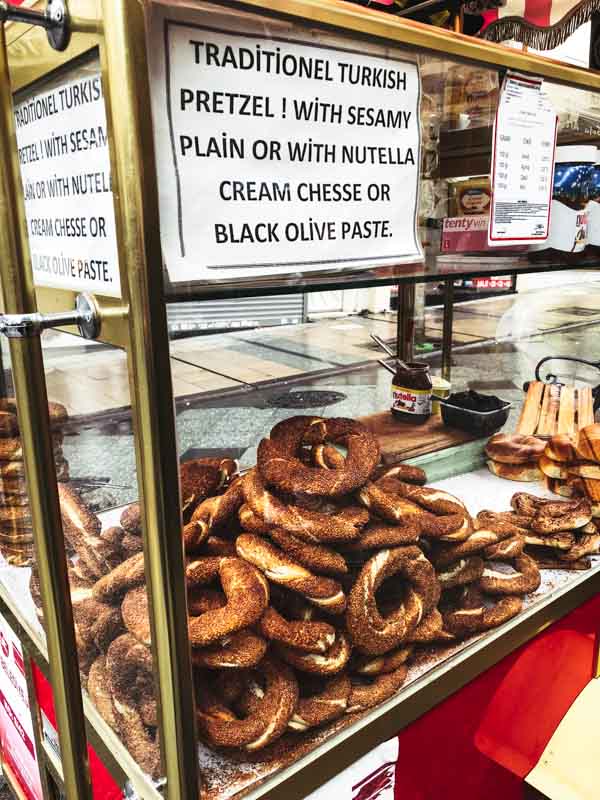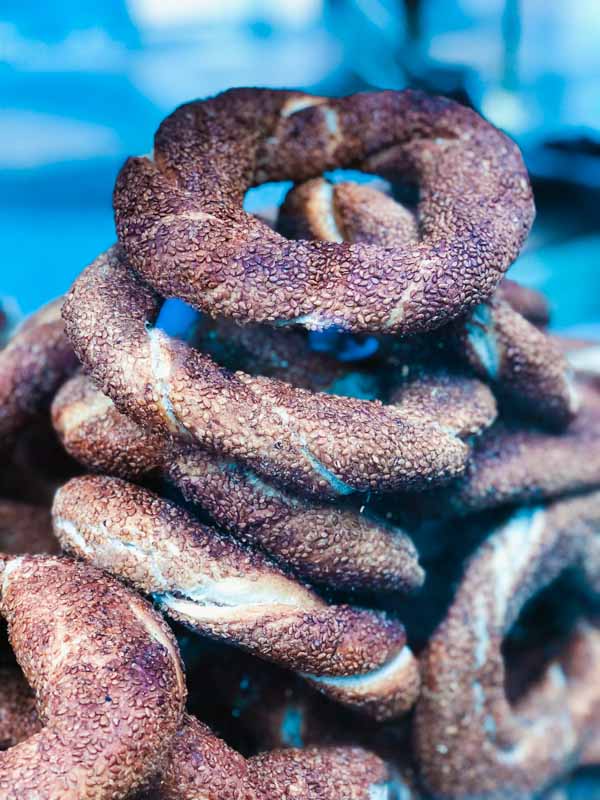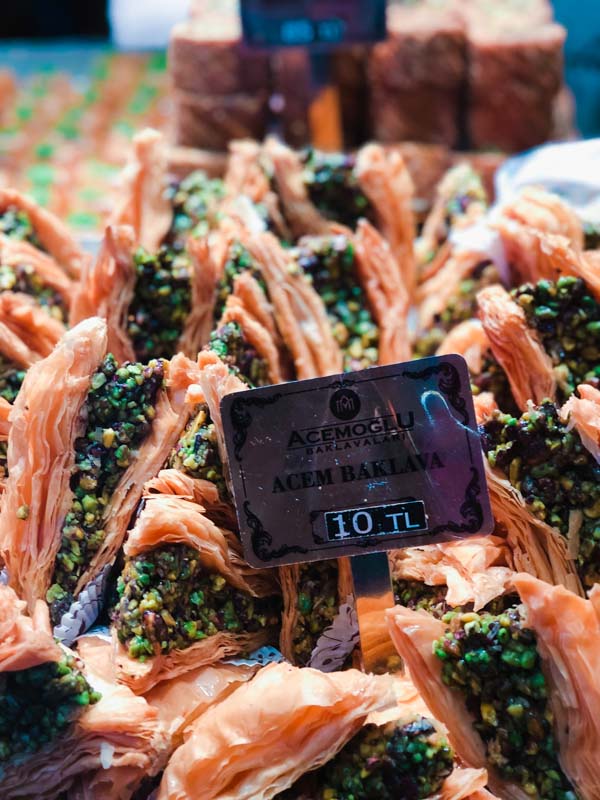 Not eating baklava in Istanbul is a bit like a Chinese tourist going to Paris without seeing the Eiffel Tower. You wouldn't forgive yourself. But in the land of counterfeiting, you have to know how to pick your addresses. For the best of the city, it's in the Karakoy Gulluoglu pastry shop.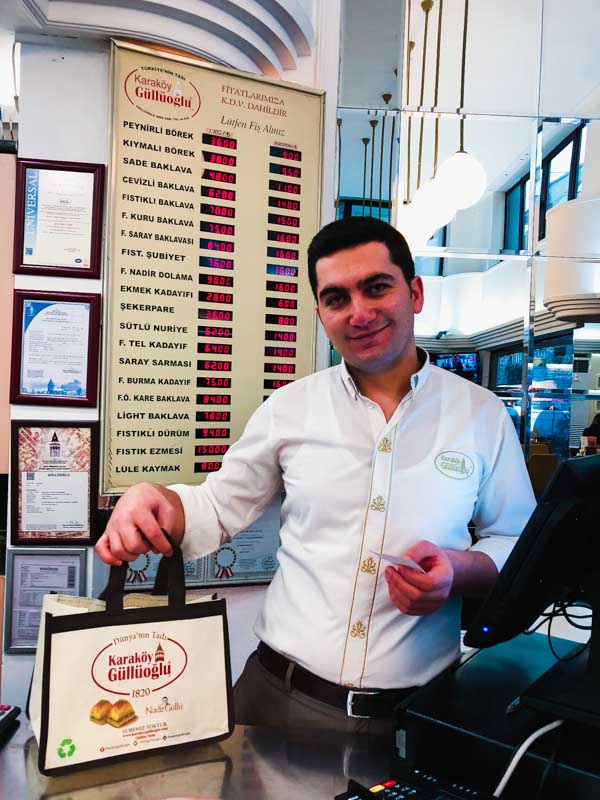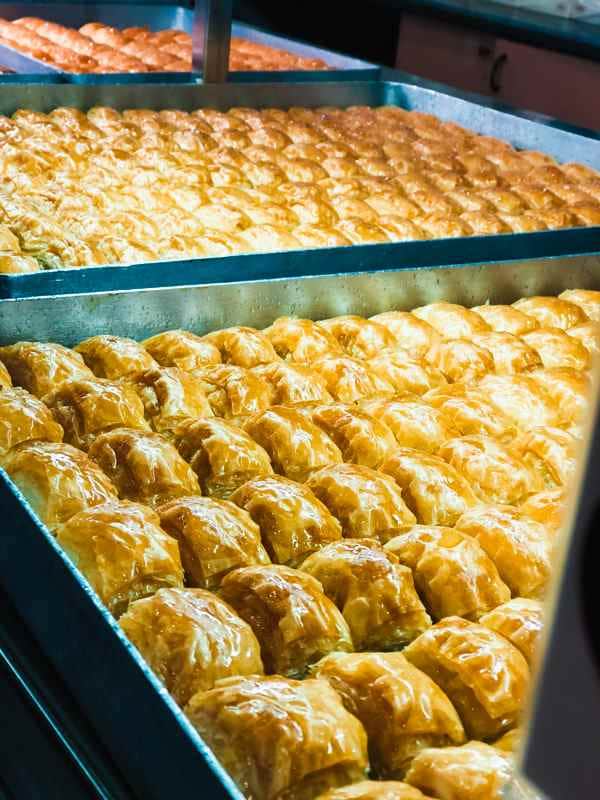 The classic baklavas remains my favorite. Some models differ just by their shape.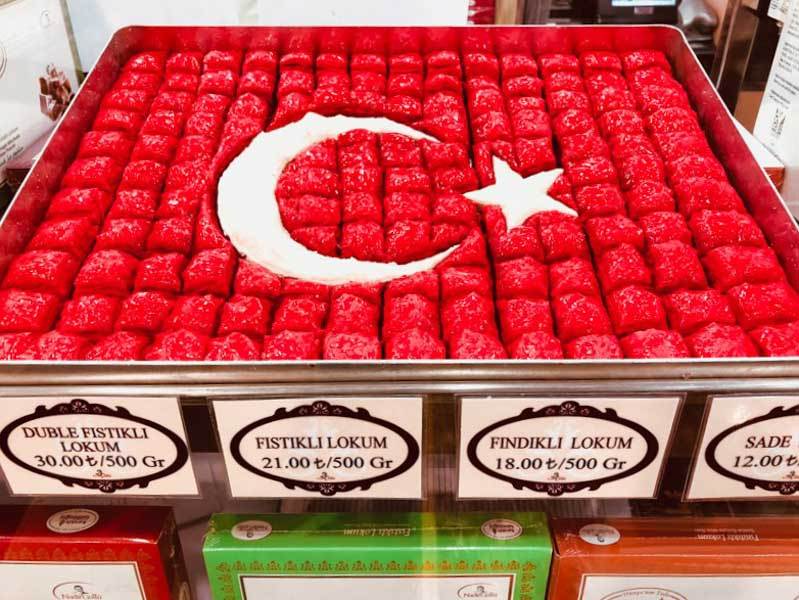 The best ingredients, a crispy dough. In fact, they are more refined and less sickening than in any tea room. A big crush.
The house, opened in 1800, offers traditional baklavas but also double pistachio or filled with curdled cream, or chocolate. And even Stevia-based for diabetics.
Sweets that can even be delivered to Europe.
2 baklavas: 1,30€ / 1 box: 7€
Address. Rıhtım Cad. Katlı Otopark Altı No: 3-4 Karaköy, 34425 Beyoğlu
Salep: orchid delight and fox testicle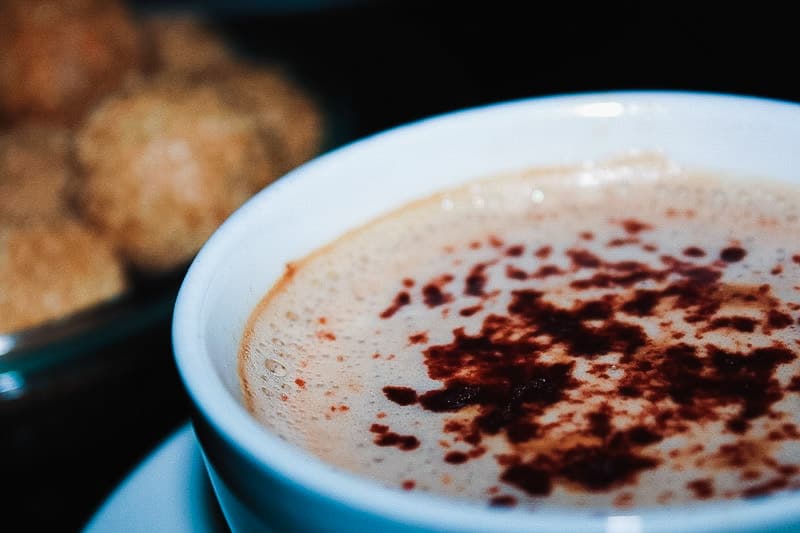 This drink sumerizes all the sweet pleasure and refinement of Turkish cuisine. The original ingredient, orchis flour (a species of wild orchid) blends perfectly with milk and cinnamon in this warm winter drink.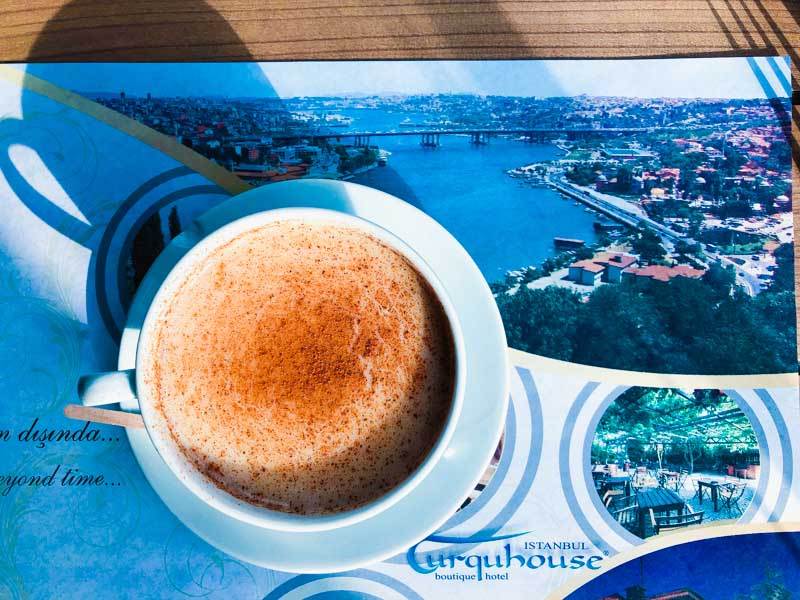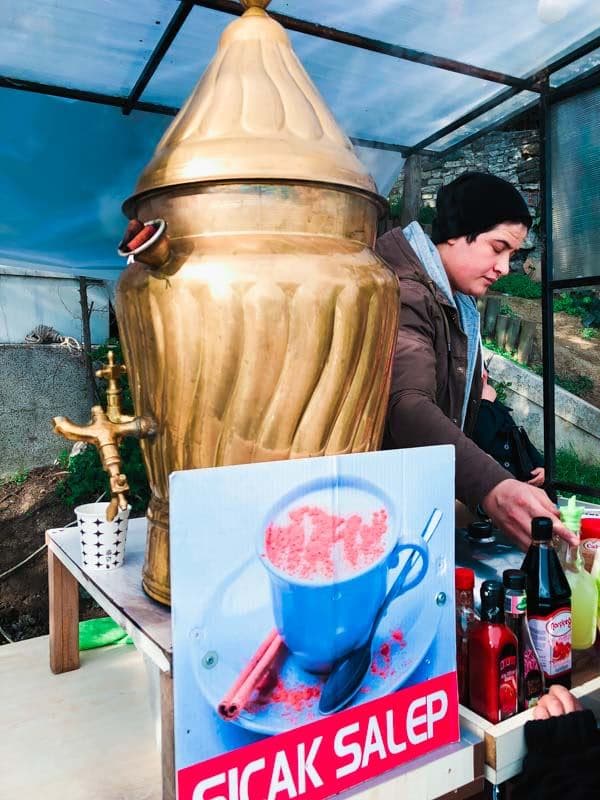 The Arabic word "saleb" means "fox testis". This drink owes its name because of the shape of the orchis. It's also considered as an aphrodisiac in Turkey. But not only. It's an excellent remedy for colds, sore throat and bronchitis. Between the loukoums and the salep, we are more likely to die from diabetes in Turkey than from a sore throat !
Unfortunately, it's difficult to find this orchid bulb powder in Europe because it comes only from Turkey and Albania. But you can buy it in Hafiz Mustafa tea rooms for example.
Turkish coffee (Turk kahvesi)
" Coffee must be black as hell, strong as death and sweet as love."
Tturkish proverb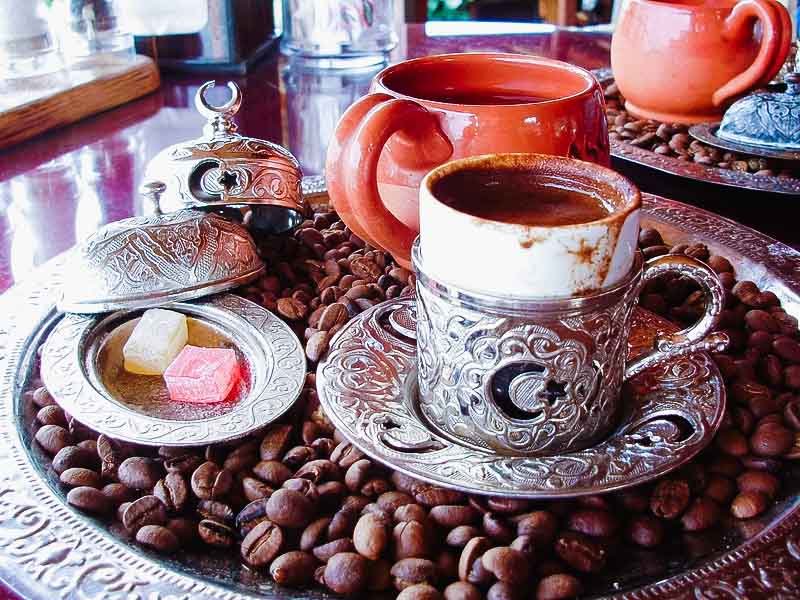 In the 16th century, having failed to seize Vienna, the Ottomans rushed away leaving their provisions behind. That's how Viennese women get 500 bags of coffee... which makes them the first Europeans to sip a cup of coffee.
A century later in France, coffee is still unknown.
In 1669, Sultan Mehmed IV's ambassador, Soliman Aga, was sent to France to restore diplomatic ties with the Sun King. He then introduces his country's flagship drink, which we know is going to be successful. But not only... An unfortunate sentence from the ambassador about the pomp of Louis XIV's dress will be at the origin of the play Le Bourgeois gentilhomme.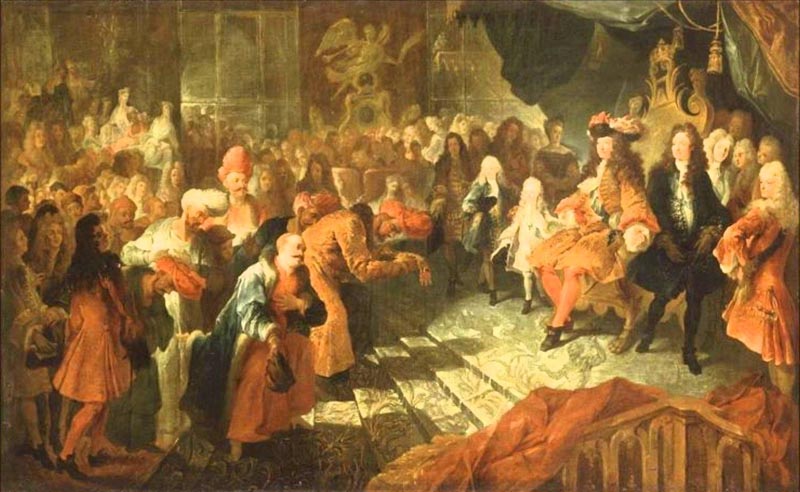 Molière and Lully, respectively author of the play and composer of its music, La Marche pour la cérémonie des Turcs, will settle through this play the accounts of the vexed king.
The art of preparing coffee is a true ritual in Turkey : It's slowly heated in a brass or copper utensil, twice, in warm sand, before pouring it. Unfiltered, it's a decoction. Then, for the most pigeon tourists, we read the future in the marc !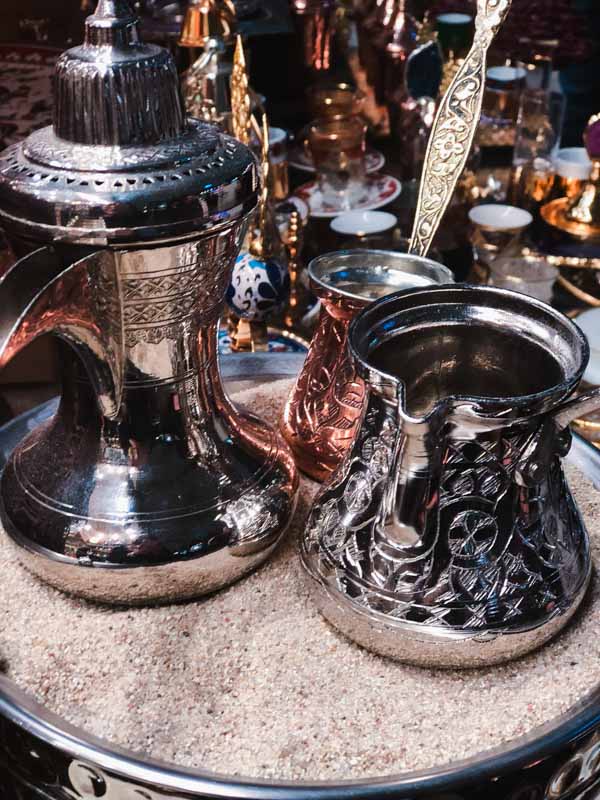 No more jokes, caffeine has been practiced for a long time in the country. It's possible to make you read the future in some cafes in the city, but there is no guarantee of truthfulness. If you're lucky – or have reliable knowledge – you can go to the end of the custom and have your future read in the coffee ground at the bottom of your cup. It's not difficult to get acquainted in Istanbul. A few smiles, a joke, and you seem to have been friends forever lol Take the opportunity to ask your new contacts if they don't know someone who…
The oldest Brûlerie (1871) in the city is Mehmet Efendi's. At the entrance of the Egyptian bazaar. Stambouliotes and tourists line up to taste real Turkish coffee, prepared as it should be.
The address : Hafiz Mustafa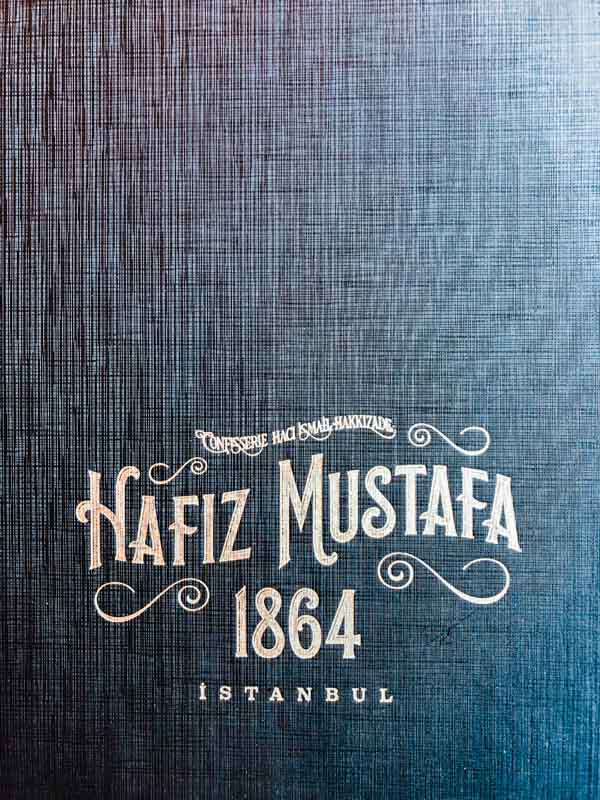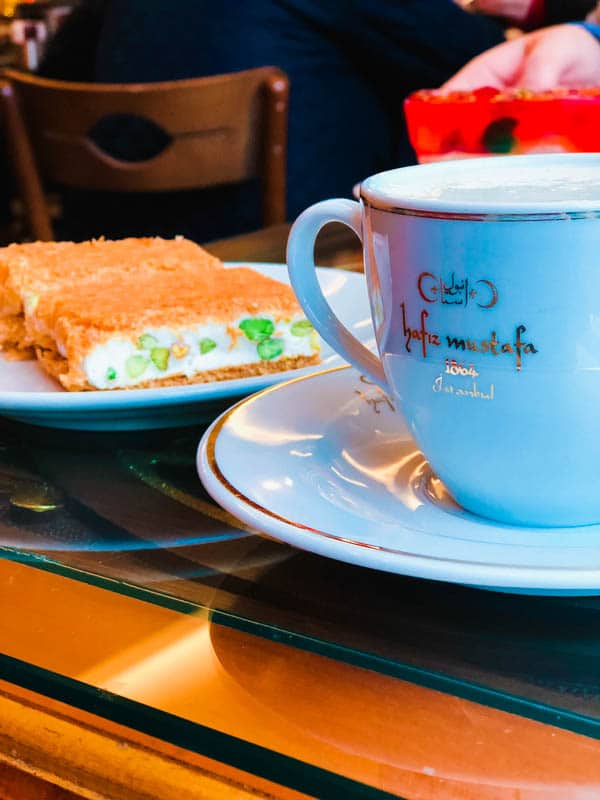 Tearooms abound in the city, but the most present chain is Hafiz Mustafa. You can taste, in the purest Ottoman class, the specialities of the country: salep, baklavas, loukoums, kunefe, etc.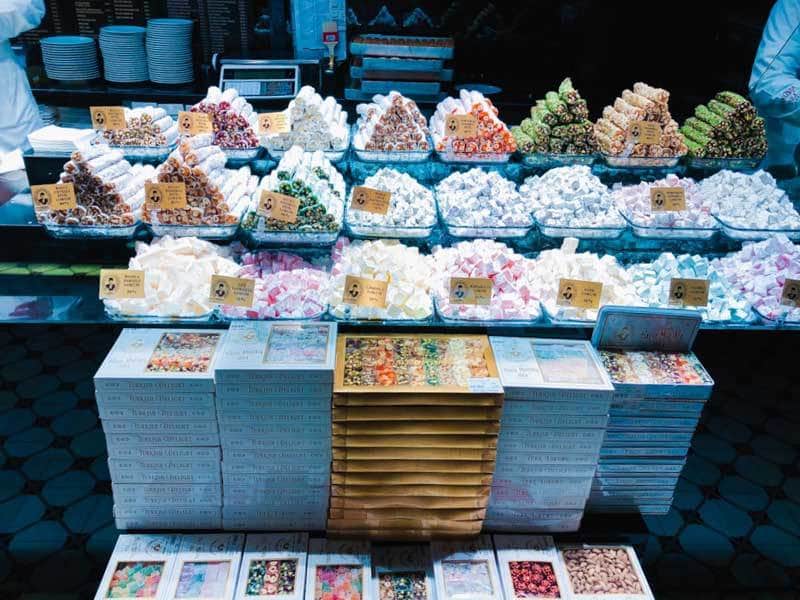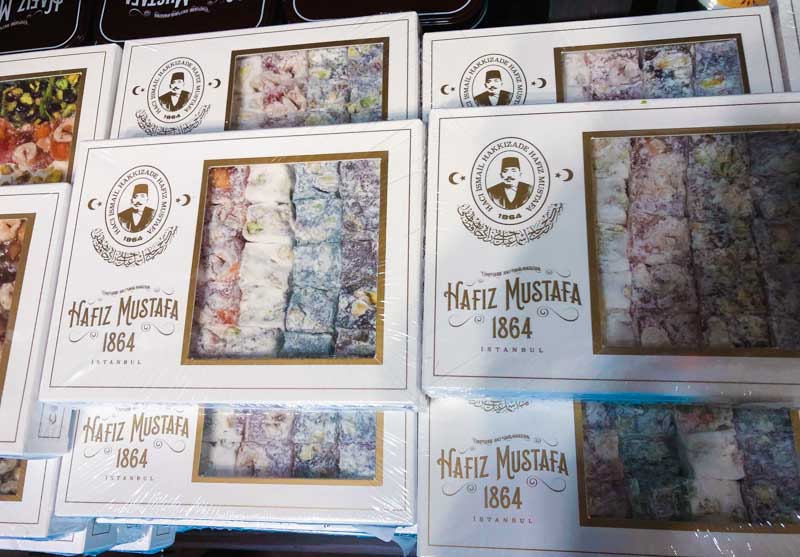 The ready-made boxes are convenient for gifts (well closed), cheap, and cute with their vintage look.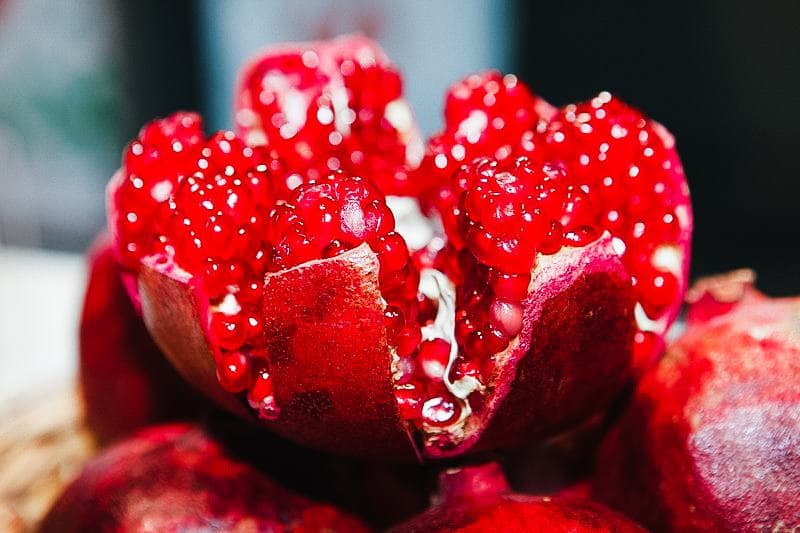 If summer is for France the time of cherries, winter is for Turkey that of pomegranate. And for a good reason, since the country is the world's second largest producer.
At this time you will find them everywhere in the city, on the stands or by street vendors, in juice (nar suyu), tea or dried flowers.
Rich in antioxydants
A little acid, but delicious in tea with sugar