Until a few years ago, Madagascar meant lemurs, great plains and some forests to me. Never would I have imagined such a beautiful coastline,
a trail of beaches that have nothing to envy to the Caribbean.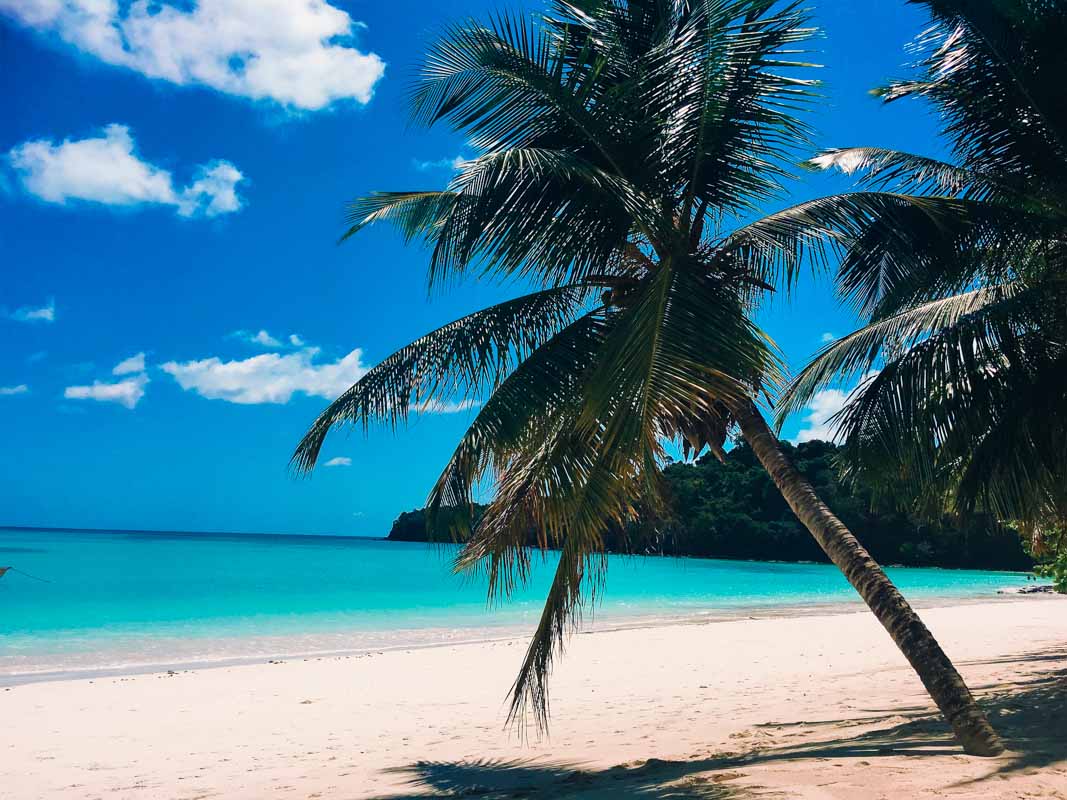 A full week is not too much to see and do everything on this island off the west coast of the country, more touristic certainly, but full of beauties.
Nosy Be, and especially its coasts, determined the period of my trip : it's during winter, from the end of September to the end of December, that one can observe the biggest world fish, the whale shark. I would have never missed this, even if I feared my first encounter with this giant of the seas, fortunately harmless.
Two options to reach the island : a flight (Nosy Be has its own airport) or a quick cruise from Ankify's port (pronounce «Ankif»), which is much cheaper.
The passage of many tourists and local workers generates daily agitation on the port. A merry mess, but one that is no less well oiled.
Ankify's port seen from the boat.
Our faithful driver will take the tickets for the crossing.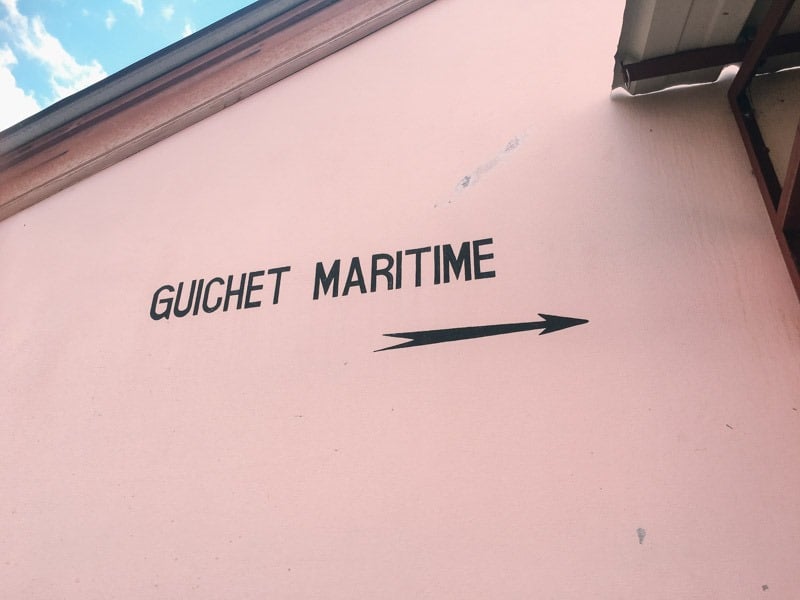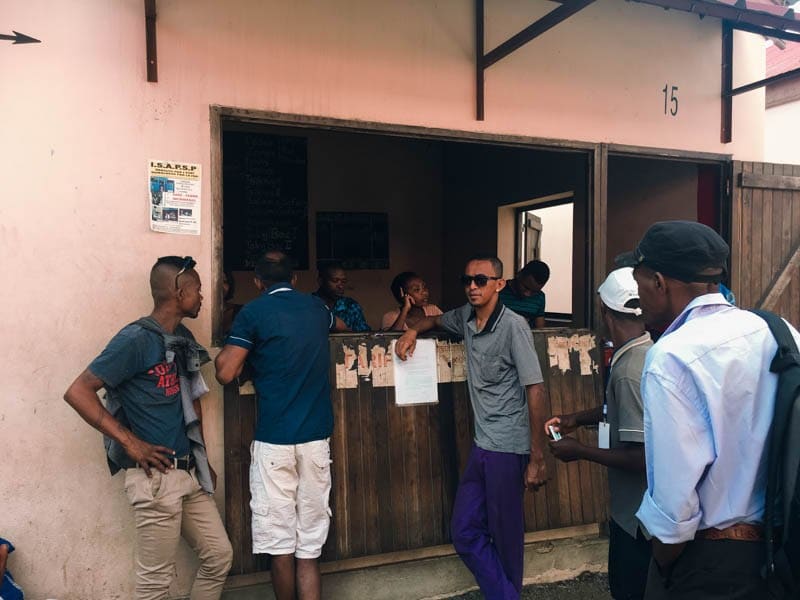 We must leave Rivo, who, more than just a driver, has been a true travelling companion.
We join the other passengers on a small boat. Seeing them wearing their vests reminds me of the jellyfish raft or a group of clans. I remember that I swim very badly lol
The featured crossing is fast (30 min, against 1h by ferry) and agitated, but there are never accidents. Our luggage is dry.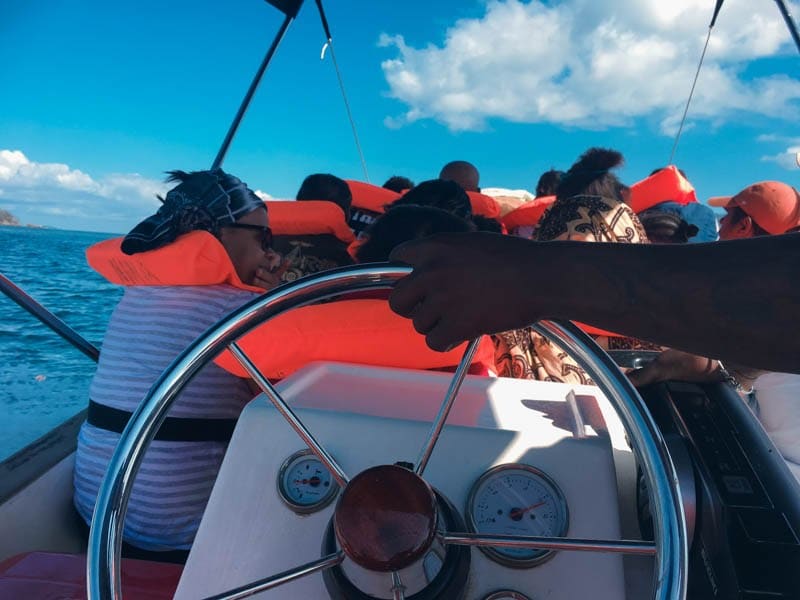 Budget. 5 €/pers la traversée, bagage inclus
Nosy Be
Here the clientele is mainly French and Italian, but at each its own beach. When the Italians prefer Andilana, the others will be concentrated on the outskirts of the beach of Ambatoloaka (pronounce «ambatolouk»).
You will come across many vazahas (White people in Malagasy) from the neighbouring French islands: Mayotte or La Réunion. This small paradise at the gates of their territory is a boon for these vacationers.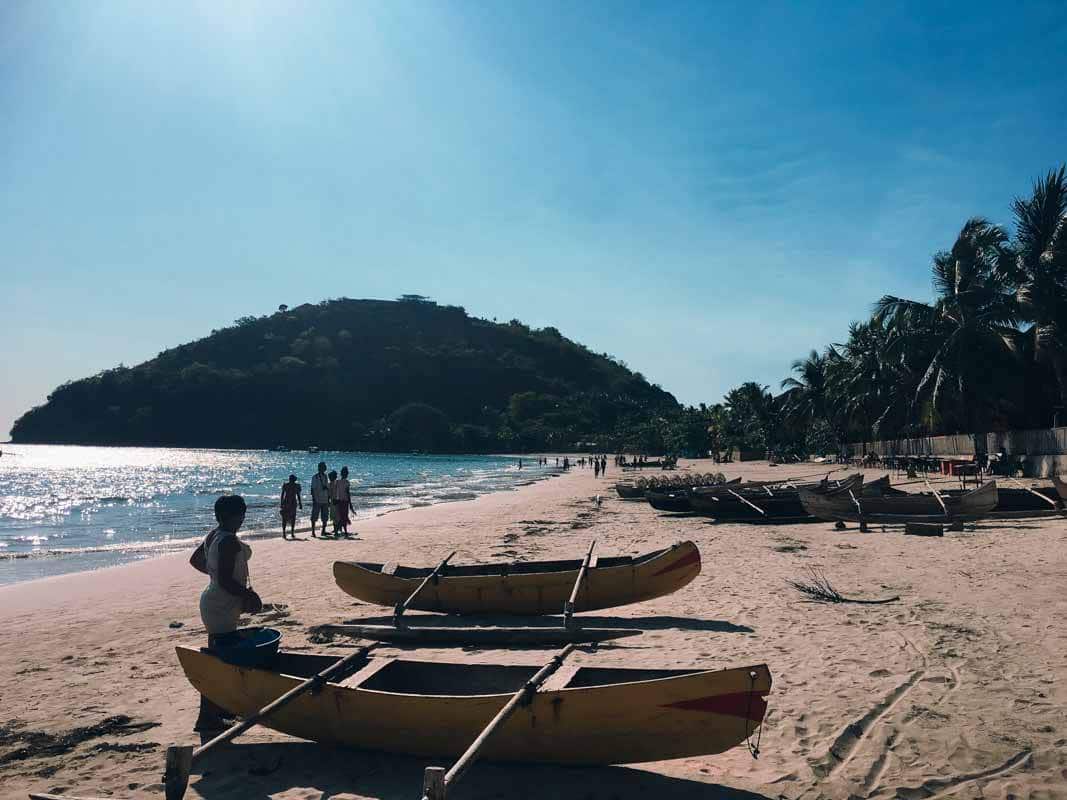 If it's true that there is a form of prostitution in Nosy Be (the island is famous for its old gentlemen accompanied by young malagasy women), it would be a shame to reduce it to that. Nosy Be does not have the unhealthy climate of some streets of Bangkok for example. Families come to spend their holidays there without any problem.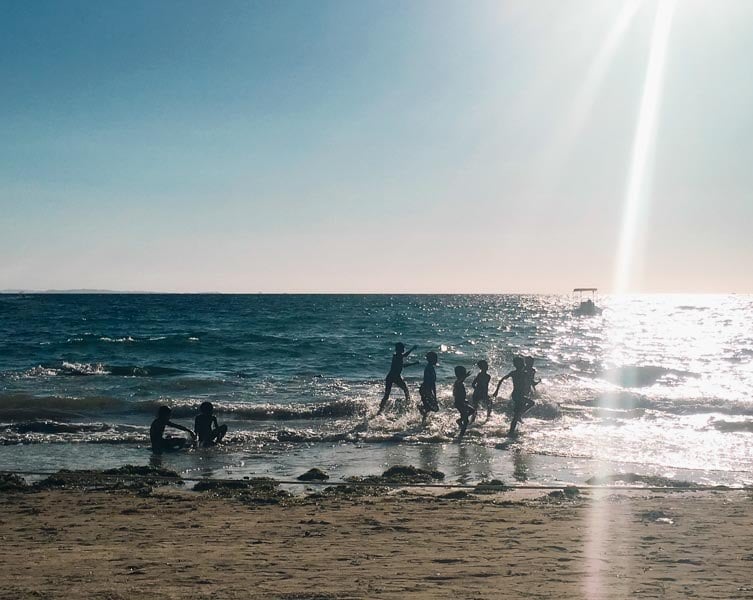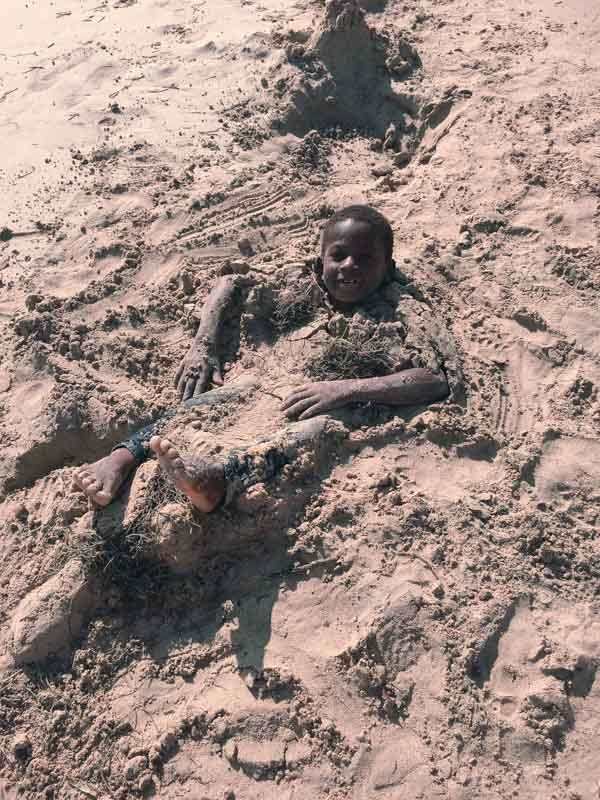 Our program is already organized with an essential provider of the island, Baleines Rand'eau, mounted by Arthur and Tanguy, two brothers well determined to make tourists discover the wonders of the Malagasy coast and the surrounding islands, respect for nature.
A partner in whom you can trust to organize you a great trip. 
1st day: Snorkeling in Nosy Tanikely
2nd day: morning on horseback/ afternoon: quad to Mont Passot
3rd day: whale and whale shark outing + snorkeling in Nosy Sakatia
4th and 5th day: bivouac in Nosy Iranja
6th day: rest and massage on the beach
The view of the beach from the former HQ of Baleines Rand'eau. Short break before leaving to discover the islands Nosy Tanikely and Nosy Sakatia.
Ambataloaka, 2017.
Baleines Rand'eau : why is it a sooooo good plan ?
Because the selected hotels are all well placed.
Because every outing is more than just the program : teams keep a watchful (and wise) eye on marine wildlife to get you diving with whale sharks, whales, dolphins or rays.
Because the excursion + accommodation package is economically interesting.
Because they are accommodating: if for example you prefer a horse outing rather than diving, the team will modify your pack.
For a successful stay in Nosy Be, Baleines Rand'eau is a must.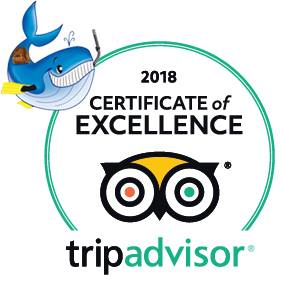 The beaches of the surrounding islands are much greater than Nosy Be's, although clean and pleasant.
Clearly, to swim in a clear water on a strip of mirific fine sand, you have to take the boat. Nosy Iranja is where it happens.
Missing going there would, in my opinion, be going to Istanbul without visiting Saint Sophia or to Rome without setting foot in Saint Peter's Basilica. Who would do that ?!

Nosy Tanikely and Nosy Sakatia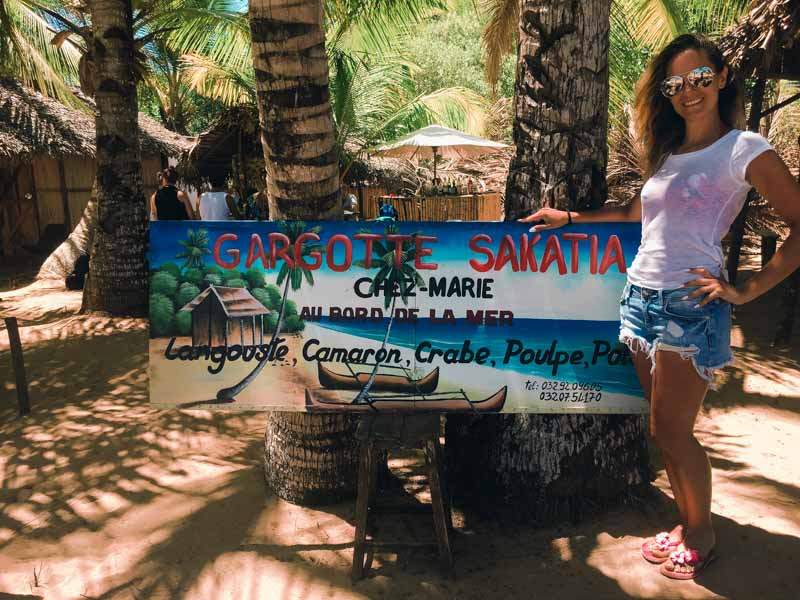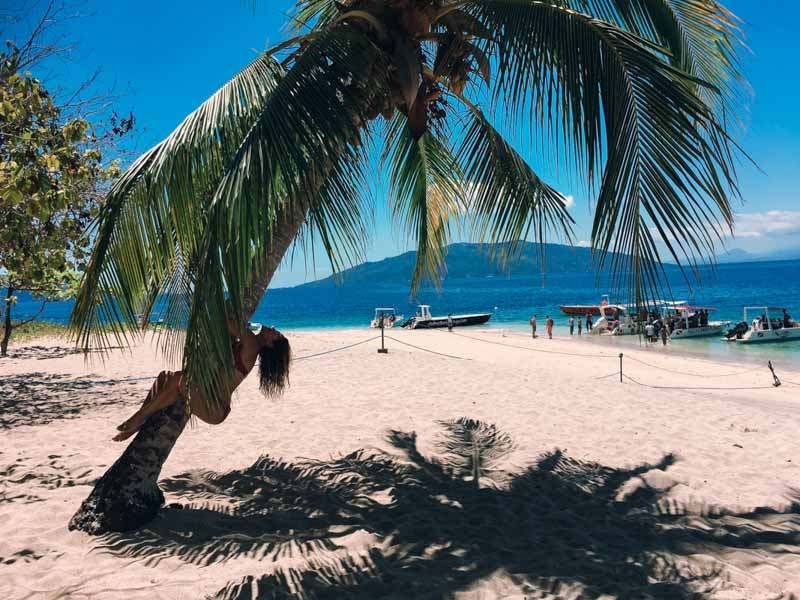 Nosy Tanikely is the area's marine reserve, and Nosy Sakatia is the turtle island. Clear, shallow and calm waters, ideal for snorkeling and turtle watching.
Not much people on the beach, a promontory ideal for having a panoramic view of the bay, a meal of fish and raw vegetables, we do not complain !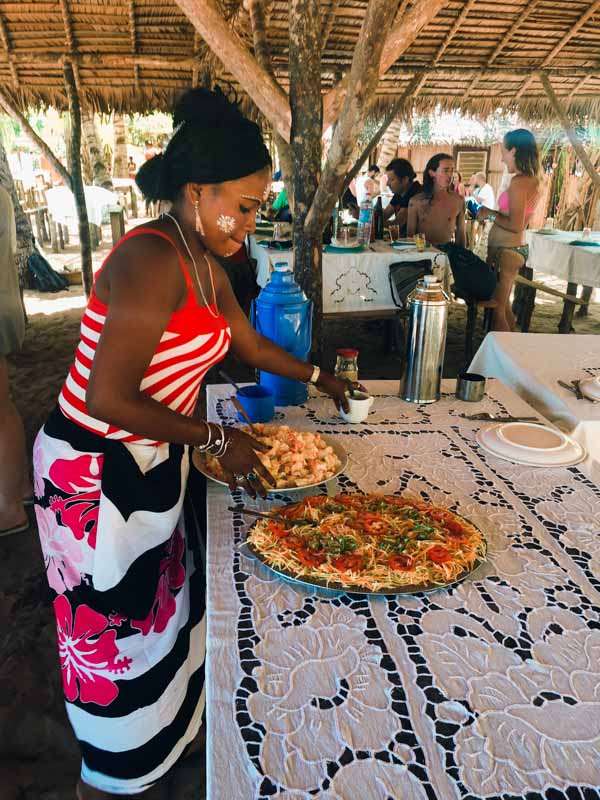 Nosy Iranja
Accompanied by a friend who had already visited the island, I knew that the experience deserved to spend a night there. He had been frustrated, like many poorly advised tourists and/or in a hurry, to spend only one afternoon in this paradise. Its peaceful setting of coconut trees, white sand and clear water make it the most beautiful beach in the country (tied with those of the island of Sainte Marie, in the North East of the country).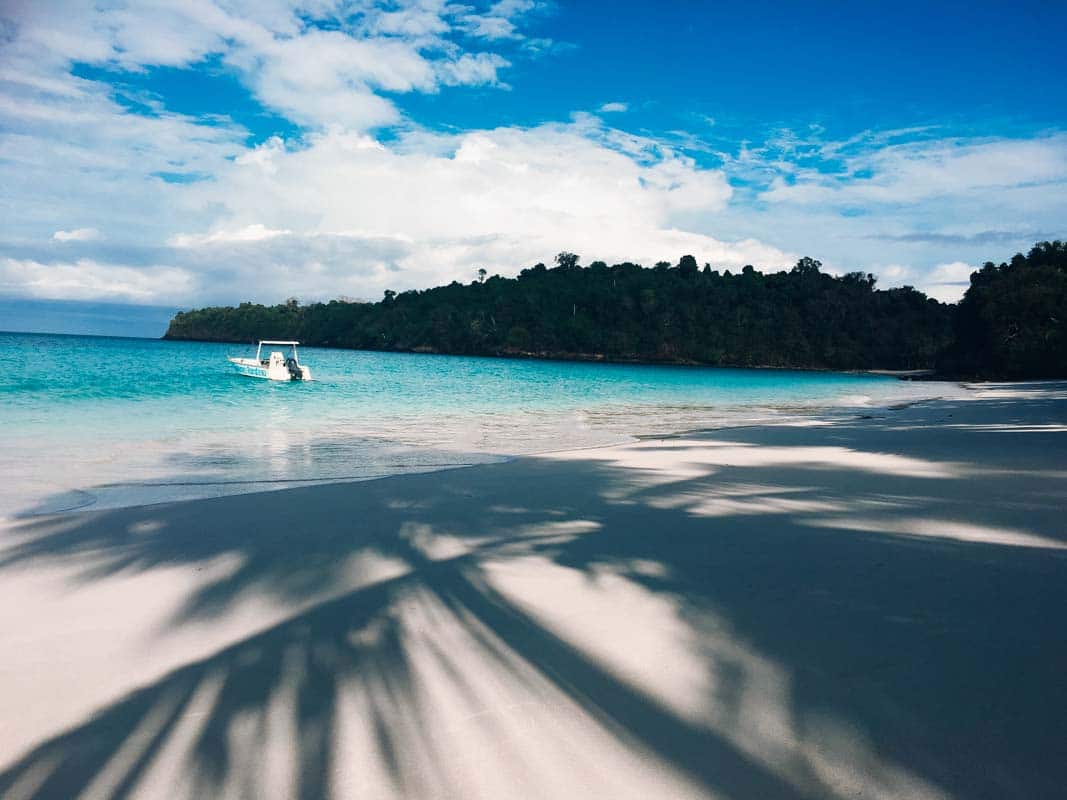 Nosy Iranja is THE reason why it took you so long to choose your swimsuit while packing, the part of dream in your adventure.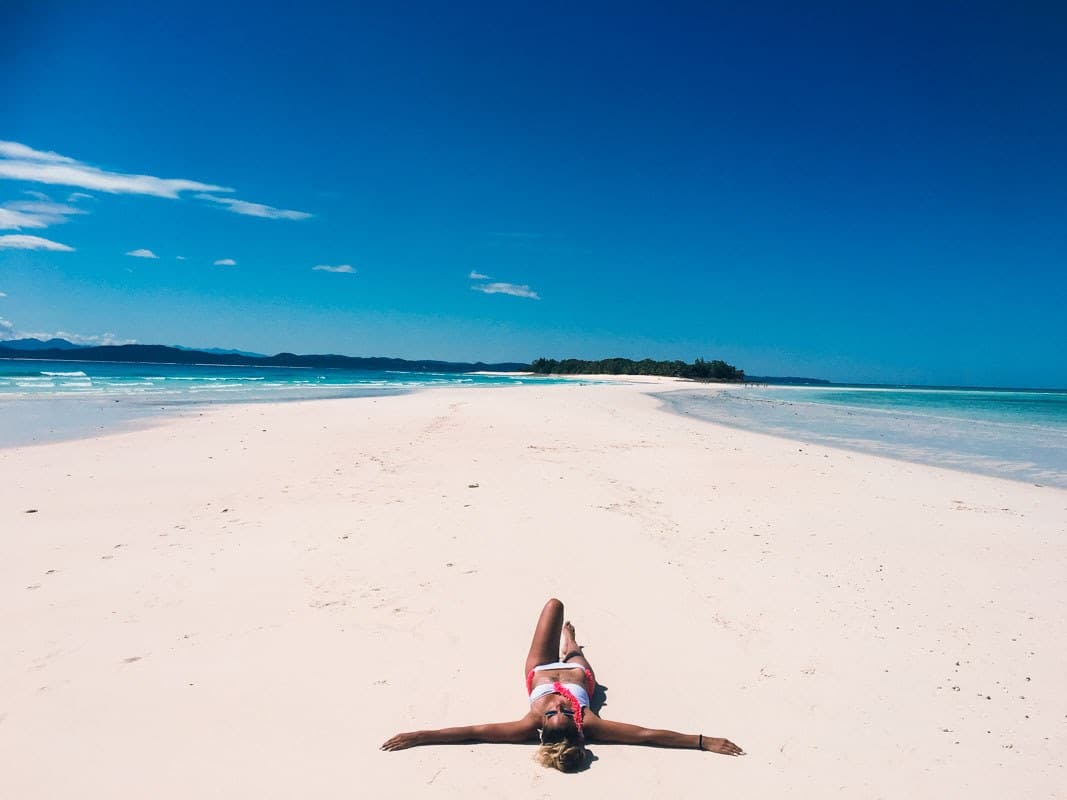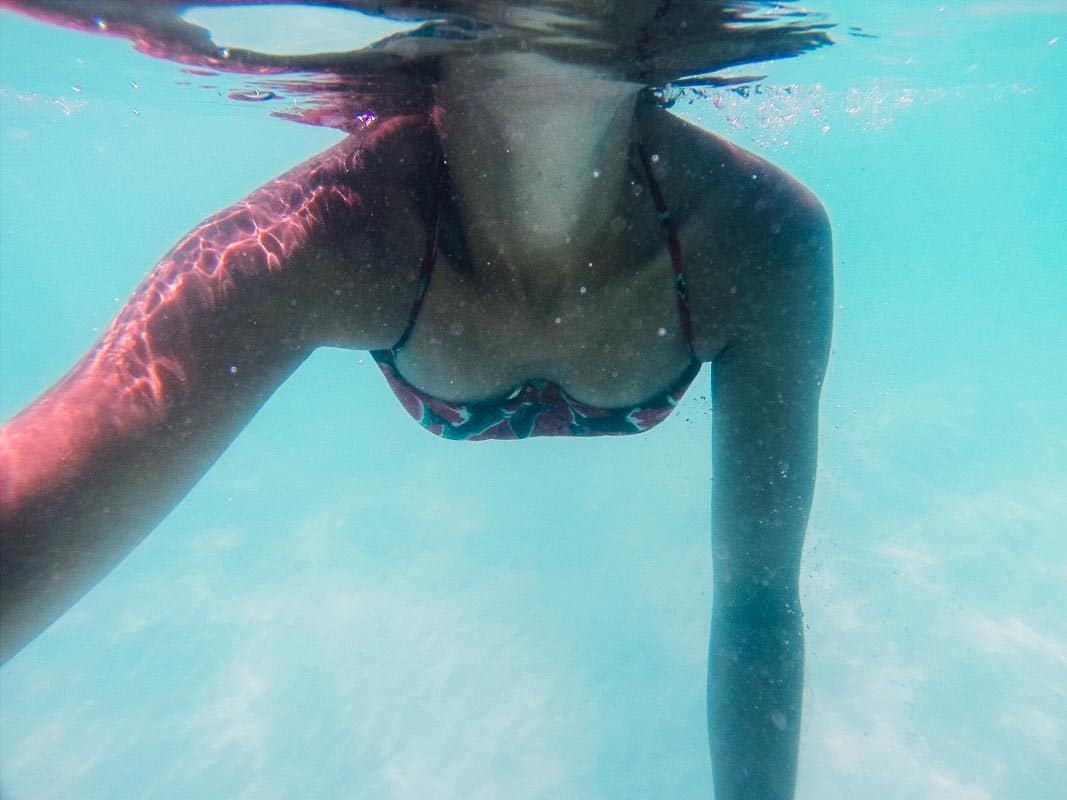 For more photos of the island and to discover the experience of a day and a night in paradise, go here.

The « Rand'eau » whales and whale sharks
Madagascar, separated from the African coast by the Mozambique Canal, has an extremely rich marine fauna, particularly off Nosy Be. Diving paradise in bottle, but not only. With a simple mask and snorkel, you will be able to meet in the good season (from the end of September to the end of December) the largest fish in the world alias the whale shark, as well as various species of whales, dolphins, and rays.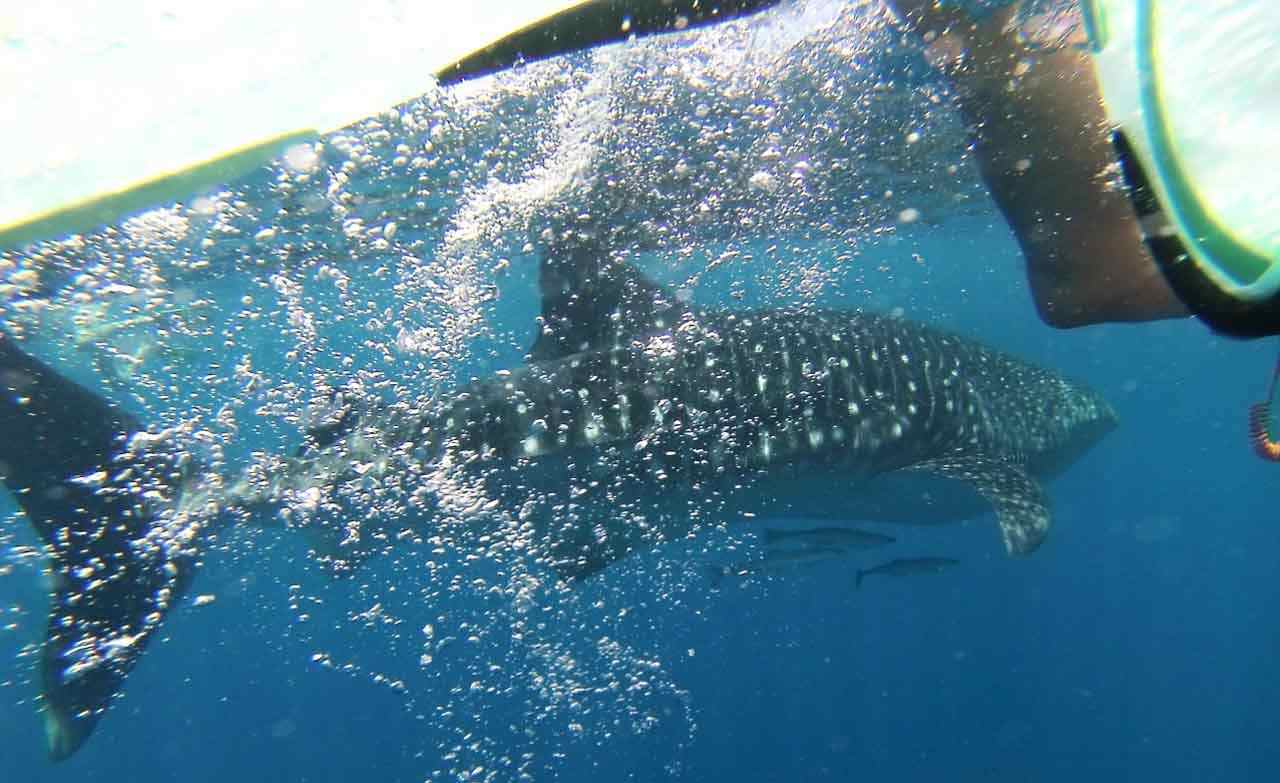 Each individual has its own "tasks" to be recognizable by scientists.
Several species of whales can be seen in Nosy Be Bay at this time. If diving to join them is forbidden – not to disturb the animal – you may have the same chance as us to see a whale come "playing" with the boat with its mother.
For more photos and videos of these marine hikes, go here.
Our hotel : The Clair de Lune
Located at a short walk from Ambatoloaka Beach, this hotel is an experience in itself. No other hotel in the area could have allowed us to enjoy such a peaceful setting and especially the gourmet cuisine of Ben the boss and his new chef.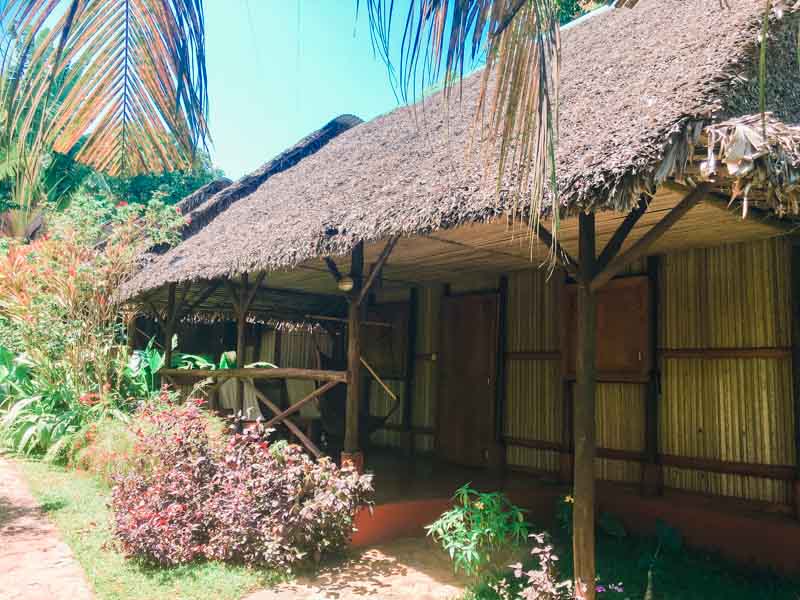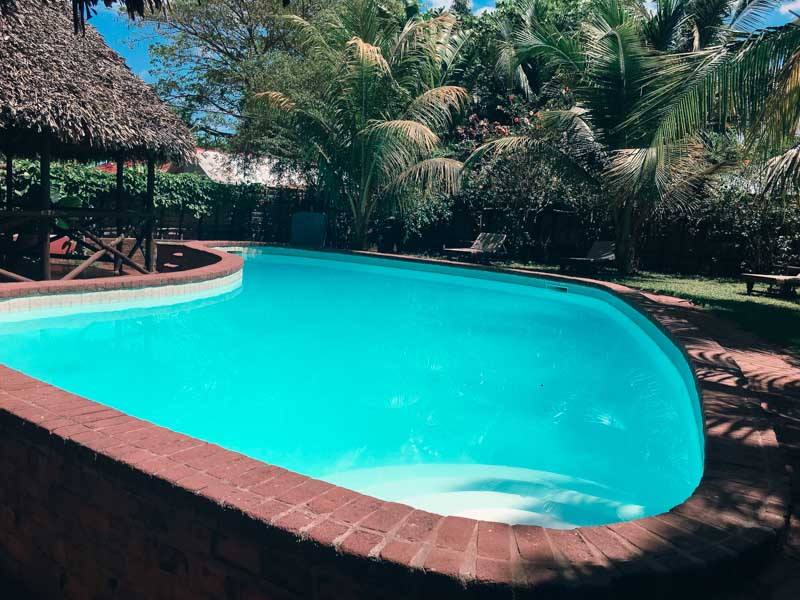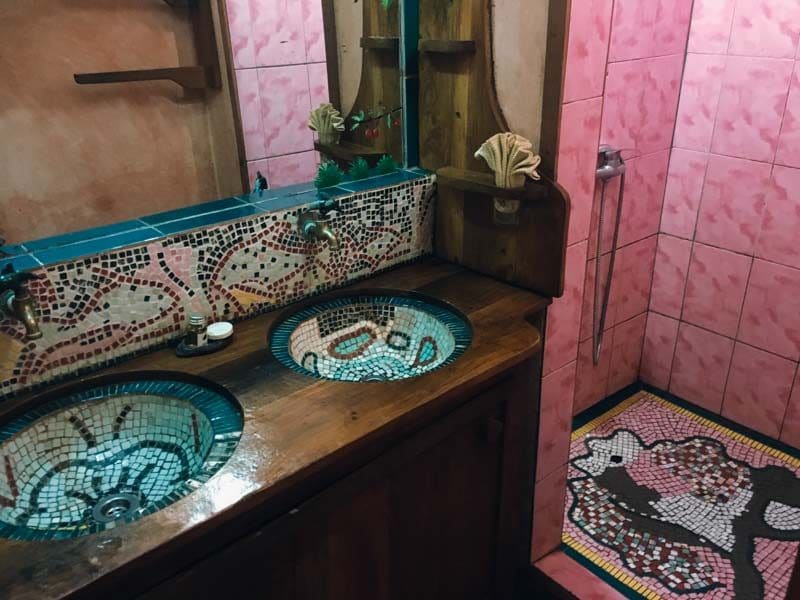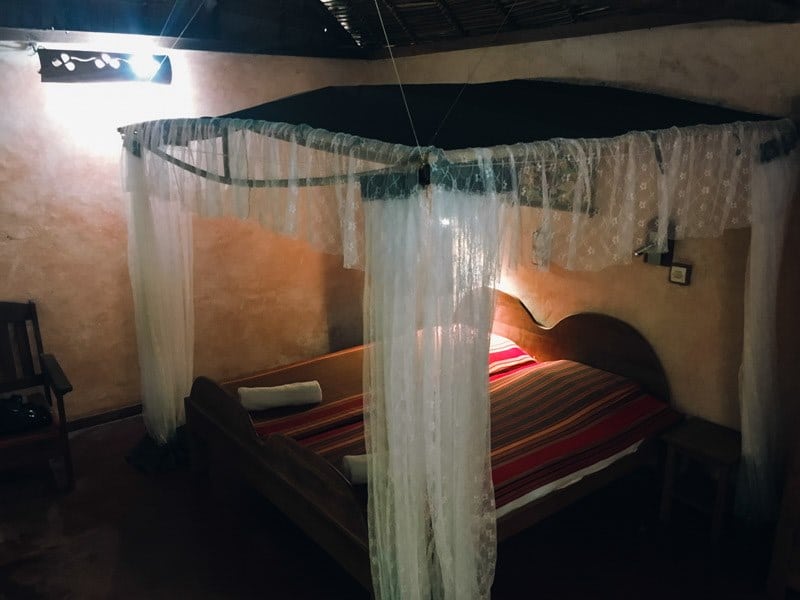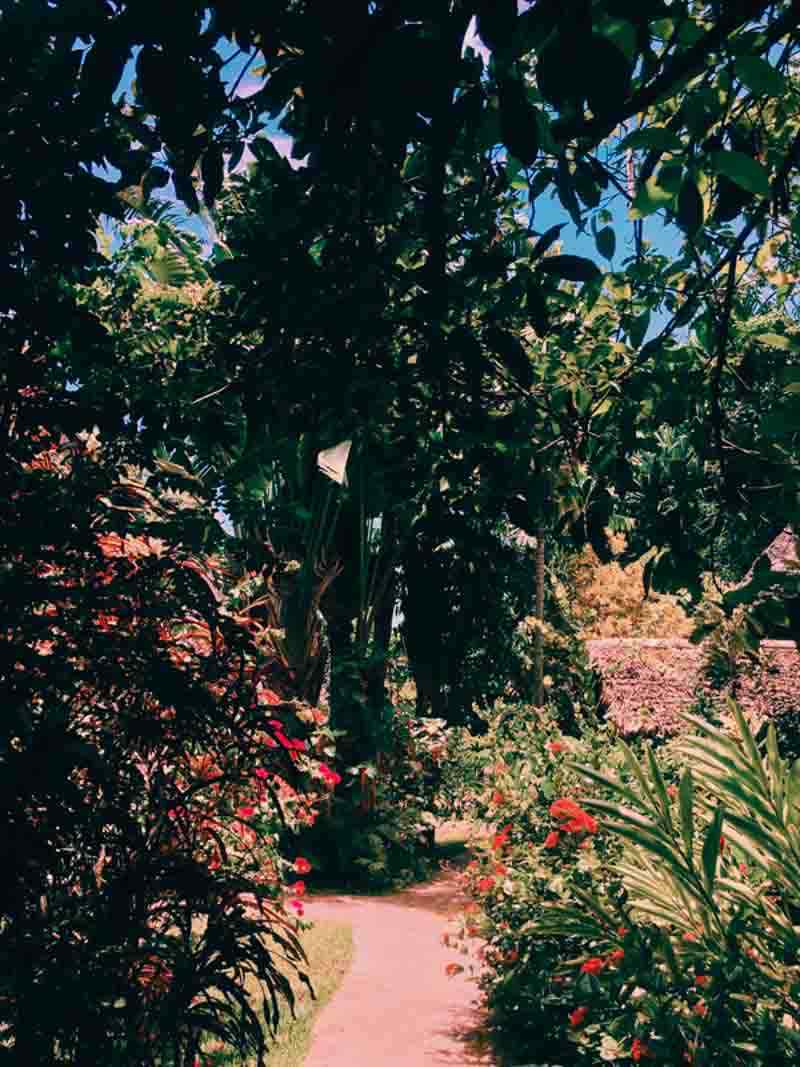 For €13 per person (I still can't believe it), the hotel's restaurant offers a series of dishes worthy of a gastronomic table.
Ben is an incredible character, a true adventurer who isn't a tongue-tied. He knows all that it needs to make you taste the meat as tender as possible, he knows where and when to go to get it, how long to cook it. His new chef, straight from the North of France where he trained young people in cooking, is also a virtuoso of flavors. Both of them know how to use the richness of the island's fruits and vegetables to offer one of the finest cuisines I have ever tasted in my life. Fish with pesto, zebu meat on a bed of asparagus, chocolate cream and salted butter caramel, white passion fruit, … Each dinner consists of 3 starters, 2 dishes and a dessert. Plan to be hungry! Every evening, the meal served will be different, and imposed as cooked according to the morning arrivals.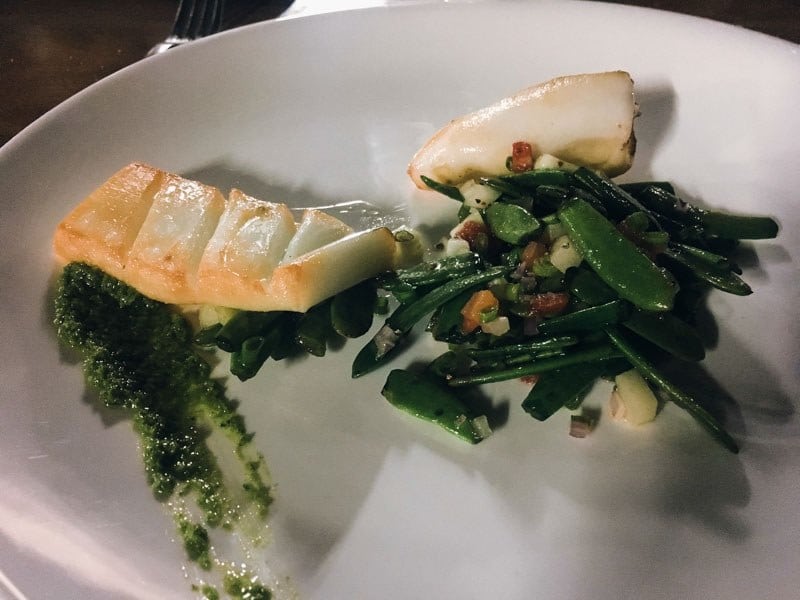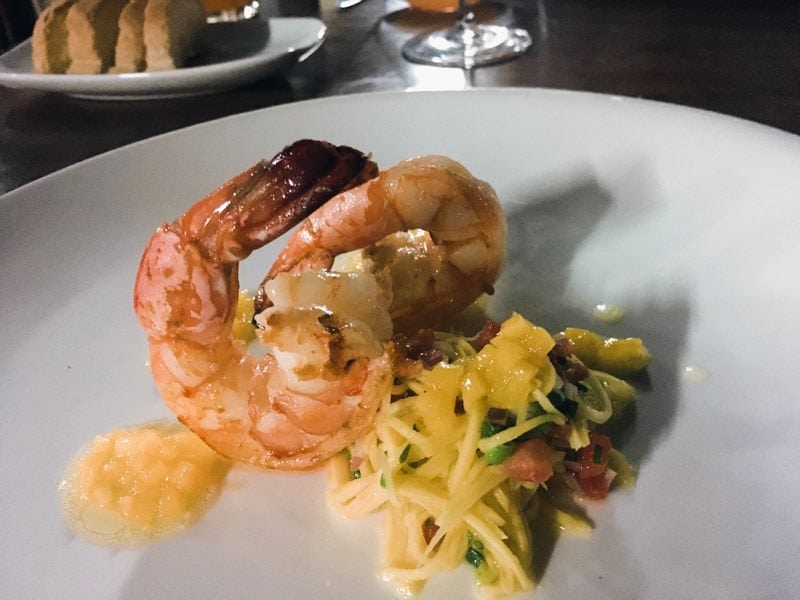 Ben, the big boss. The hotel's boss and cook, whose profile is shown on the logo, will surely take you to the beach by car if you are early… and nice!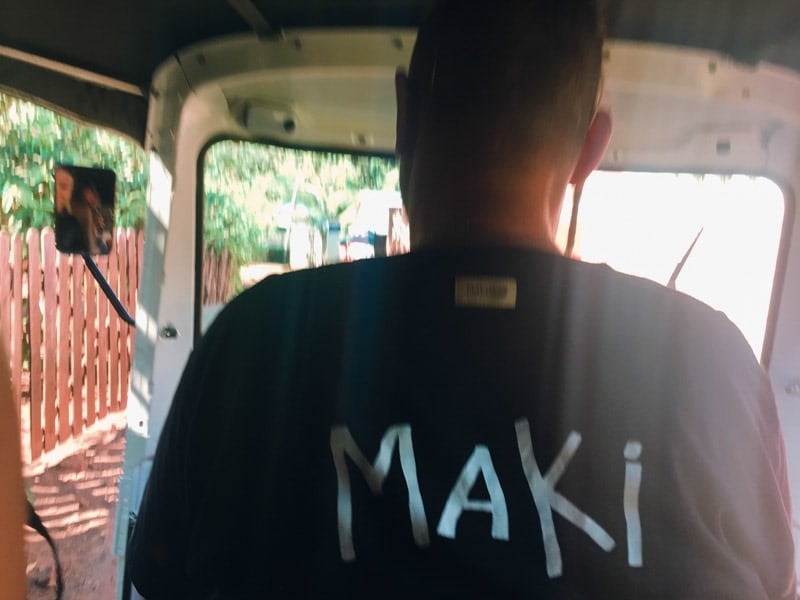 Budget. 390 €/person per package excursion (small budget) + accommodation in the Moonlight (breakfast base).
Ambatoloaka, 207, Madagascar
+261 32 48 266 53
Discovering the island in Quad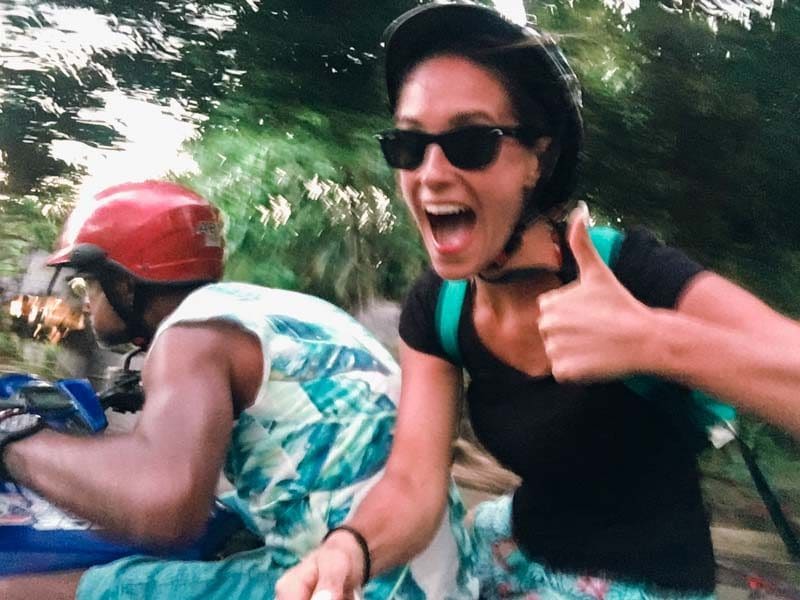 A quick and friendly way to visit the island outside its tourist areas. You will pass through the capital Hell city (which has not much interest except to buy vanilla at the market), you will stop at a small waterfall (not a big deal), walk along some ylang ylang plantations and small villages, to finish your journey to Mont Passot, from where you will have a panoramic view of the bay.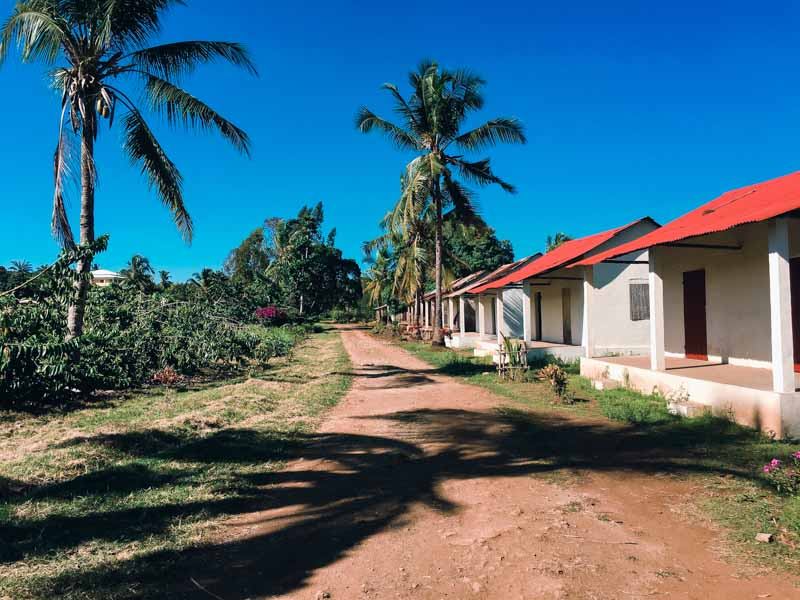 A walk to start ideally in the middle of the afternoon, in order to enjoy the sunset.
Mont Passot, 2017

Budget. 13 € / pers for the quad, the petrol, the guide and the entrances to the waterfall and Mount Passot.
You can easily find providers by the beach. Negotiate. If you are offered an escort on another quad, ask to have it on a moped, it will cost you less.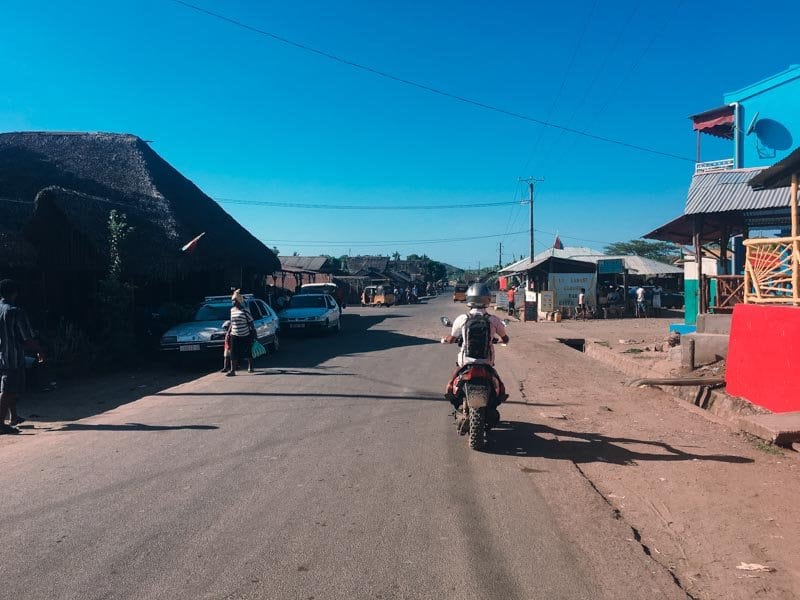 Justin, our young Malagasy guide, precedes us on a moped.

Horse riding and swimming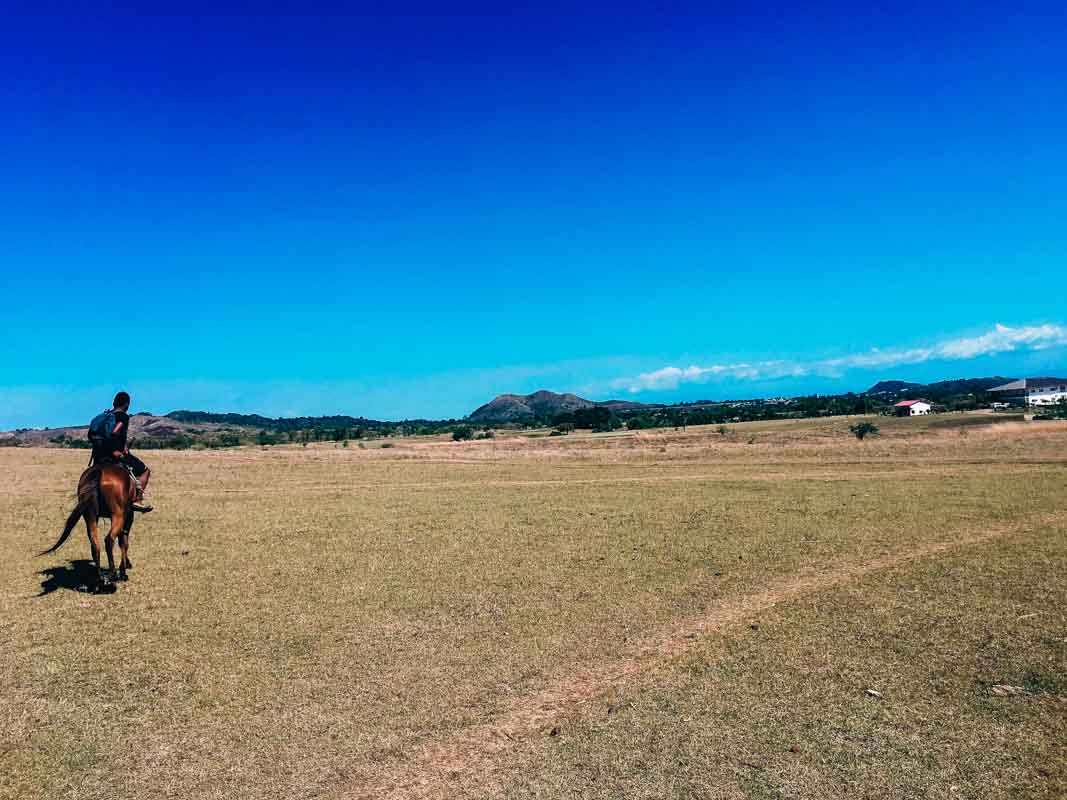 Yet another way (quiet) to visit the island. A whole afternoon on a horseback to pass on top of a large lake, explore the heights overlooking the fields ras, and end up at the beach for a well-deserved swim under this heat for us and for the horses.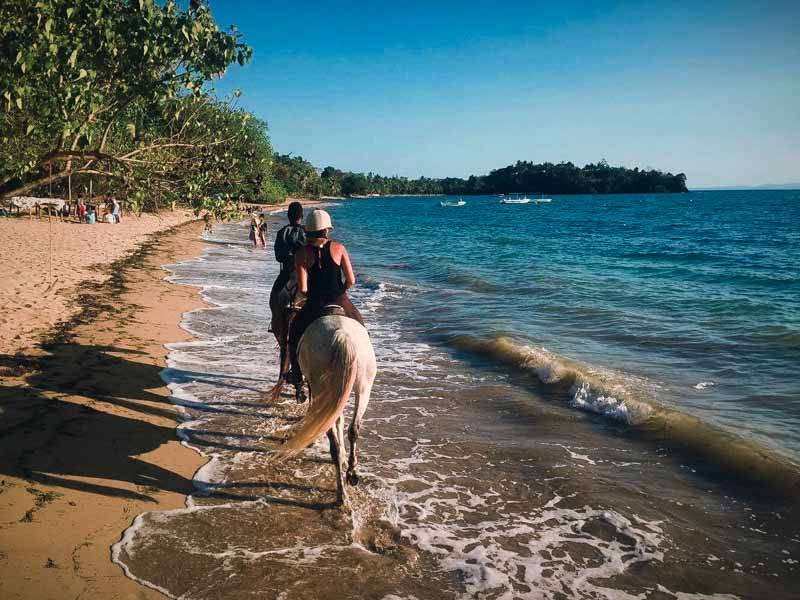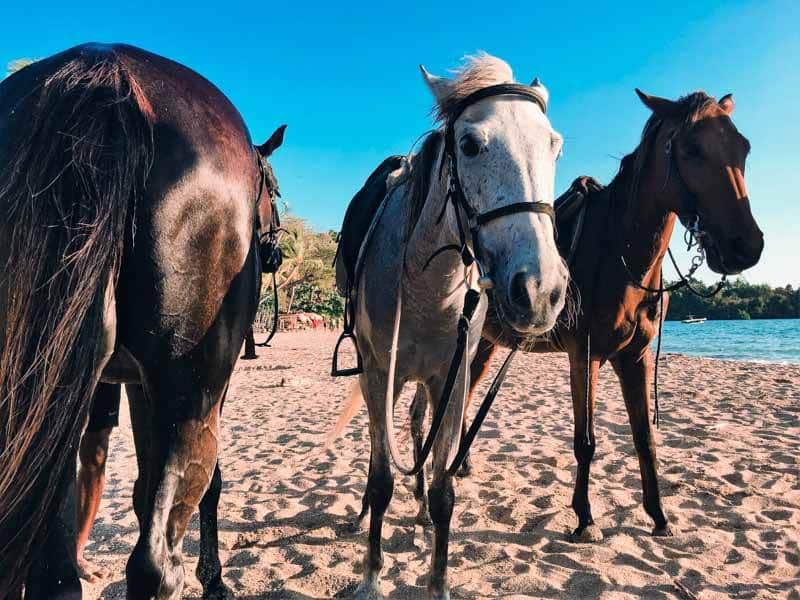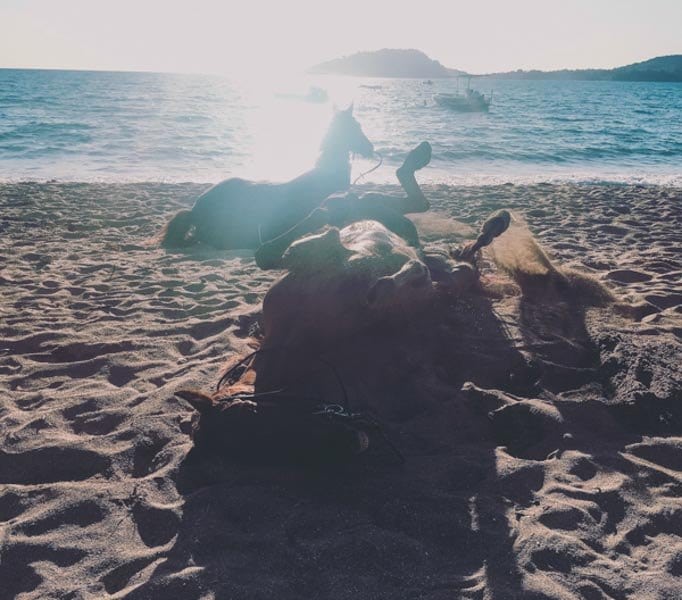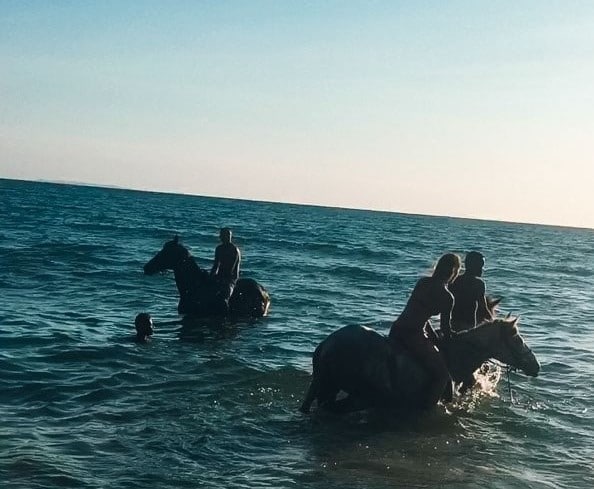 No need to know how to ride before. The walk is very quiet, the horses easy of character.
Budget. We asked to include horseback riding in the Baleines Rand'eau excursion pack, instead of the half-day dive. We just had to pay our cab to the ranch. Peanuts.